Blog by Rachel Thomas
Inside Inholm's show homes: loft living
Our interior designer, Rachel Thomas, reveals the look behind Inholm's loft living Town House show home
Two big, beautiful Town House show homes recently opened their doors in our Cambridgeshire neighbourhood, Inholm, Northstowe.
In the first of our two blogs, we revealed the interior styling of the garden living Town House inspired by modern, family living. This time round, we're introducing you to Inholm's loft living show home.
Designed with sociable couples who love to host in mind, the loft living Town House playfully flips tradition upside down with bedrooms on the first two floors and an impressive open-plan living space right at the top of the house.
Here's a walk-through of what you'll find on each of its three, bright and spacious floors.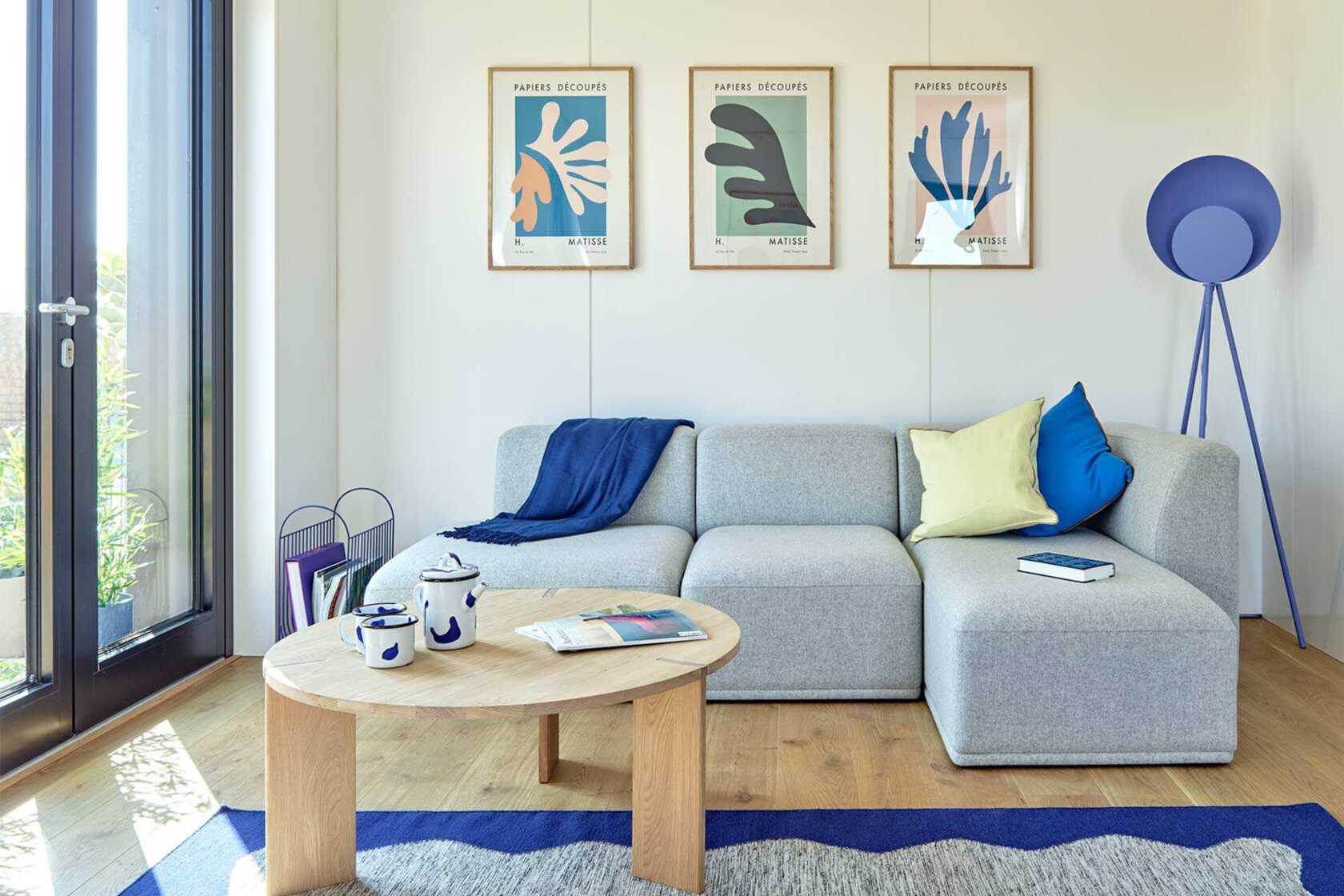 With your first steps inside, you'll enter the lobby – the area where you can shake off the outside world before entering the main space of the home. Here, there's enough room for a full-sized bench with an umbrella holder, as well as a tall standing coat rack in the corner.
Step through, peak at the understairs storage space, then turn right to arrive at the first guest bedroom styled in calming shades of blue. Enjoy having friends over? They can make themselves at home here, and as it's on the ground floor by the family bathroom, it's a great, accessible spot for elderly parents or grandparents too.
Working your way towards the back of the home leading outdoors, you'll hit the light-flooded second lounge (think of it as an indoor extension of your garden).
It's a fun, bright space splashed with turquoise and teal tones. There's a bar area, an L-shaped sofa from IKEA by the huge Samsung TV, and ample storage space we've filled with everything you'd need for a garden party – from glasses and bowls to cosy blankets to snuggle up in when the sun goes down.
The impact of the pandemic reshaped the future of working, so it was really important for us to include a flexible, home office space.
Using natural materials and a soft, earthy colour palette, the room features a full-wall shelving unit with a wall desk, and just by the entrance to the balcony, a lounge chair to relax on.

Next door, our second guest bedroom is bold and bright with yellow hues and enough room for a double bed and a modern clothing rail. It's right next door to the middle floor shower room too so you wouldn't have to travel too far to freshen up.
In this home, the L-shaped master bedroom with a shower ensuite is situated on the middle floor. There's plenty of room for storage – we've chosen to go with a large clothing rail and a tall chest of doors round the corner, but you could easily opt for a freestanding wardrobe or floor-to-ceiling build-in wardrobes in this space – it's definitely flexible enough to suit different tastes and needs.
With a more feminine colour palette in this room, you'll see how the space works with a deep red wall softened by muted red bedding, and an on-trend rattan headboard with a matching free-standing mirror. It's a great space to get ready and entertain your guests in.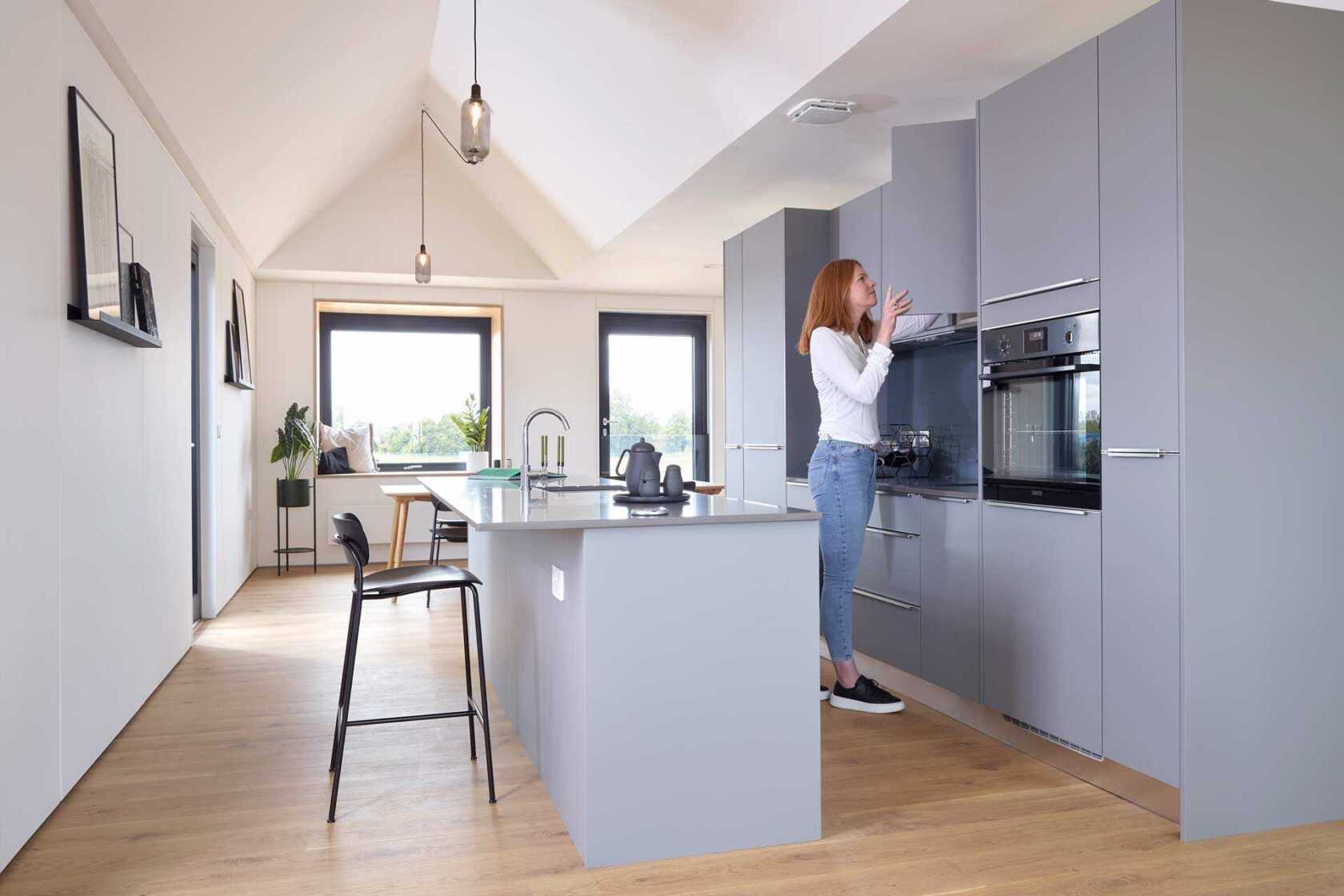 The pièce de résistance of the whole house lies on the top floor. It's an unbelievable, open-plan island kitchen, dining and living space, with a lofty pitched roof, and a long, spacious balcony with two entrances.
Not only does it have huge windows and patio doors that let natural light come flooding in, there's also an inviting sit-in picture window we've dressed with slouchy cushions – perfect for reading a book or watching the world go by.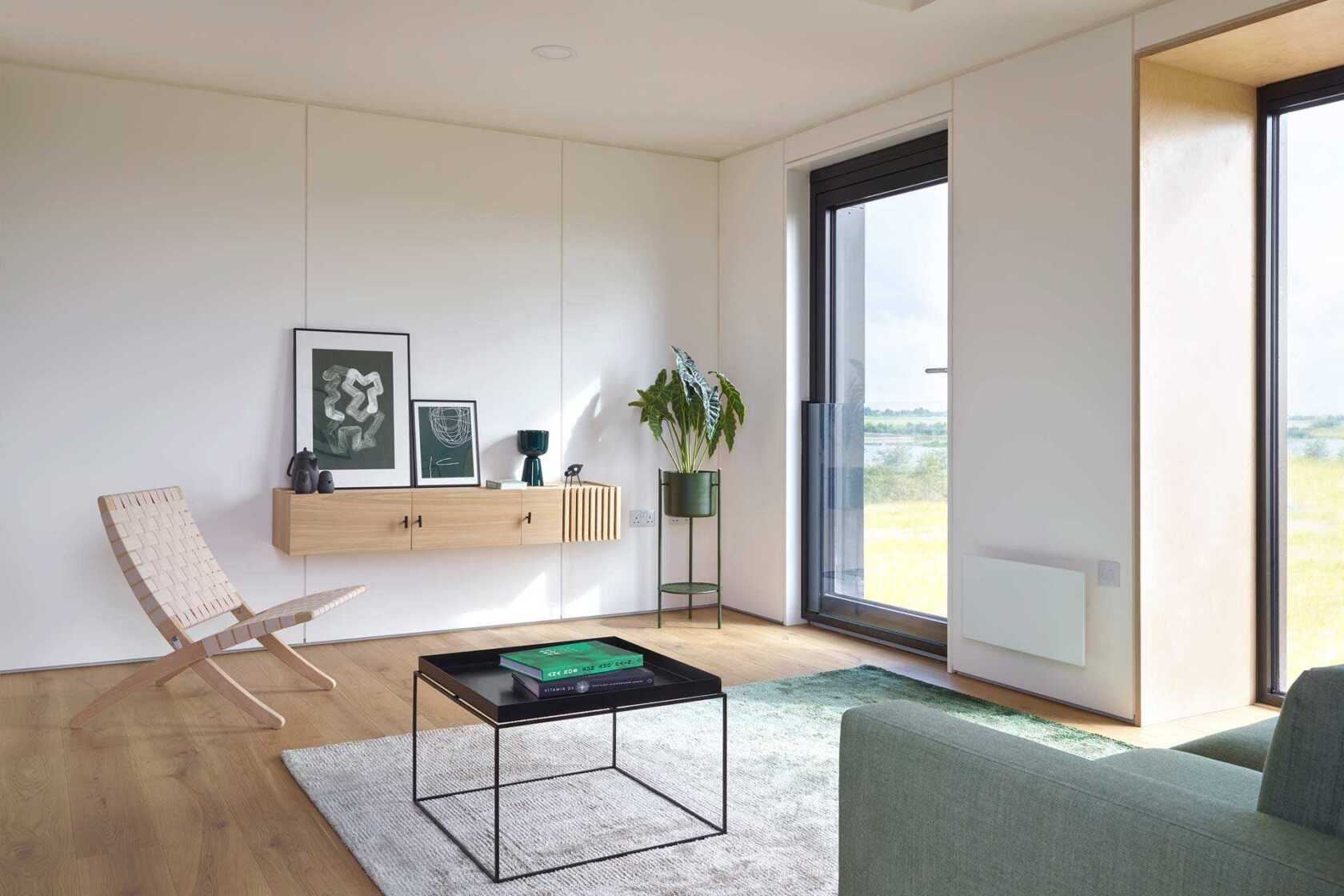 This space was built for entertaining. There's enough room here for a long, two-metre dining table – as well as the central kitchen island – and to the far side, room for a relaxing seating area with a coffee table and even more storage. Just imagine the parties you could have here.
As the area is so big and bright up here, we've used contrasting black fixtures and fittings with deep, green tones (inspired by the views from the window) that create a sophisticated, grown-up space worthy of an Instagram post.
Inholm's first-ever show homes are now open. To book, contact Brandon by emailing inholm@housebyurbansplash.co.uk or by calling 01223 867 000. Love interior design? Find out how to get the look by following us on Instagram @housebyurbansplash.
Want to be kept in the loop about all things Urban Splash? Then sign up for Newsplash!
Our monthly news round-up with the latest and freshest news on property development, place-making, housing, architecture, events and careers sent straight to your inbox.
Looking for something else?