Blog by Rachel Thomas
Inside Inholm's show homes: garden living
In the first of two blogs, our interior designer, Rachel Thomas, reveals the stories behind the styling of Inholm's spacious garden living show home
Set against the fenland green backdrop of Northstowe, Cambridge, is our modern, architect-designed neighbourhood, Inholm.
Unlike our other neighbourhoods, here you'll find not one, but two big, beautiful Town House show homes – with two very different looks.
One tells the story of garden living – a home layout you're probably used to with a sociable, living space on the ground floor.
The second home tells the story of loft living. It's a fun layout that flips the home upside down. Bedrooms are on the ground and middle floors, and an impressive, kitchen, dining, and living space – ideal for entertaining – sits right at the top of the house.
In the first of two blogs, we'll walk you through Inholm's garden living show home.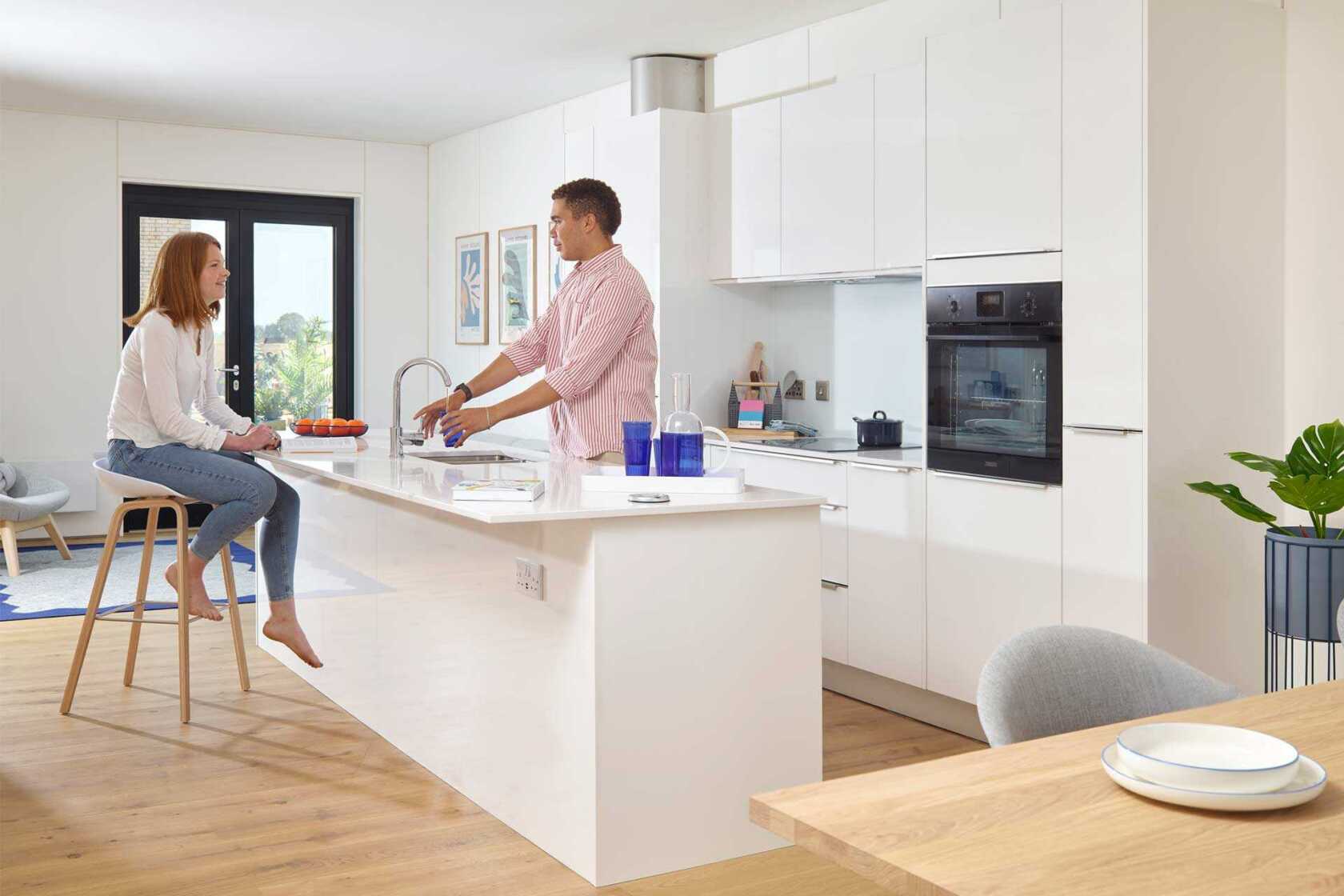 The interior styling of Inholm's garden living Town House is centred on family life.
The wooden storage unit with seating by the door is there to stop the chaos in the morning. It's where your child would put on their coat and wellies ready for school or a walk around the neighbourhood waterpark. It's where you put your bag down when you get in from work at the end of the day, or where you'd grab an umbrella from as you are heading out.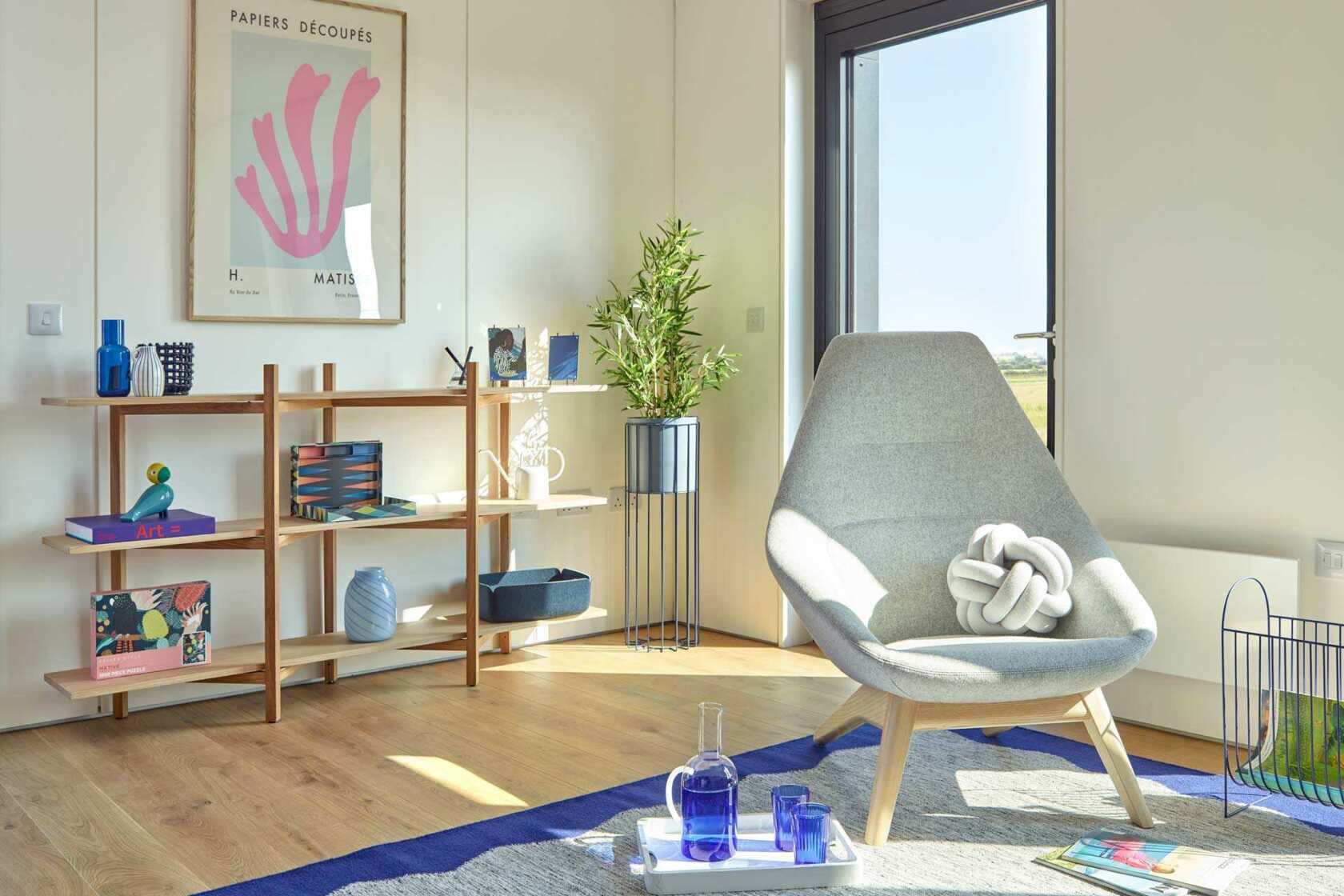 In the open-plan kitchen space, we've featured a large, glossy kitchen island with baking utensils and a recipe book. This is the heart of the home and it's really suited to family activities – we've even added a little step by its side so little hands can help out too.
The space also fits a large dining table for Sunday lunches with the whole family, and in the living space we have used colourful splashes of royal blue and soft pinks so everyone's belongings feel at home here, as well as playful jigsaws, games, books, and artwork.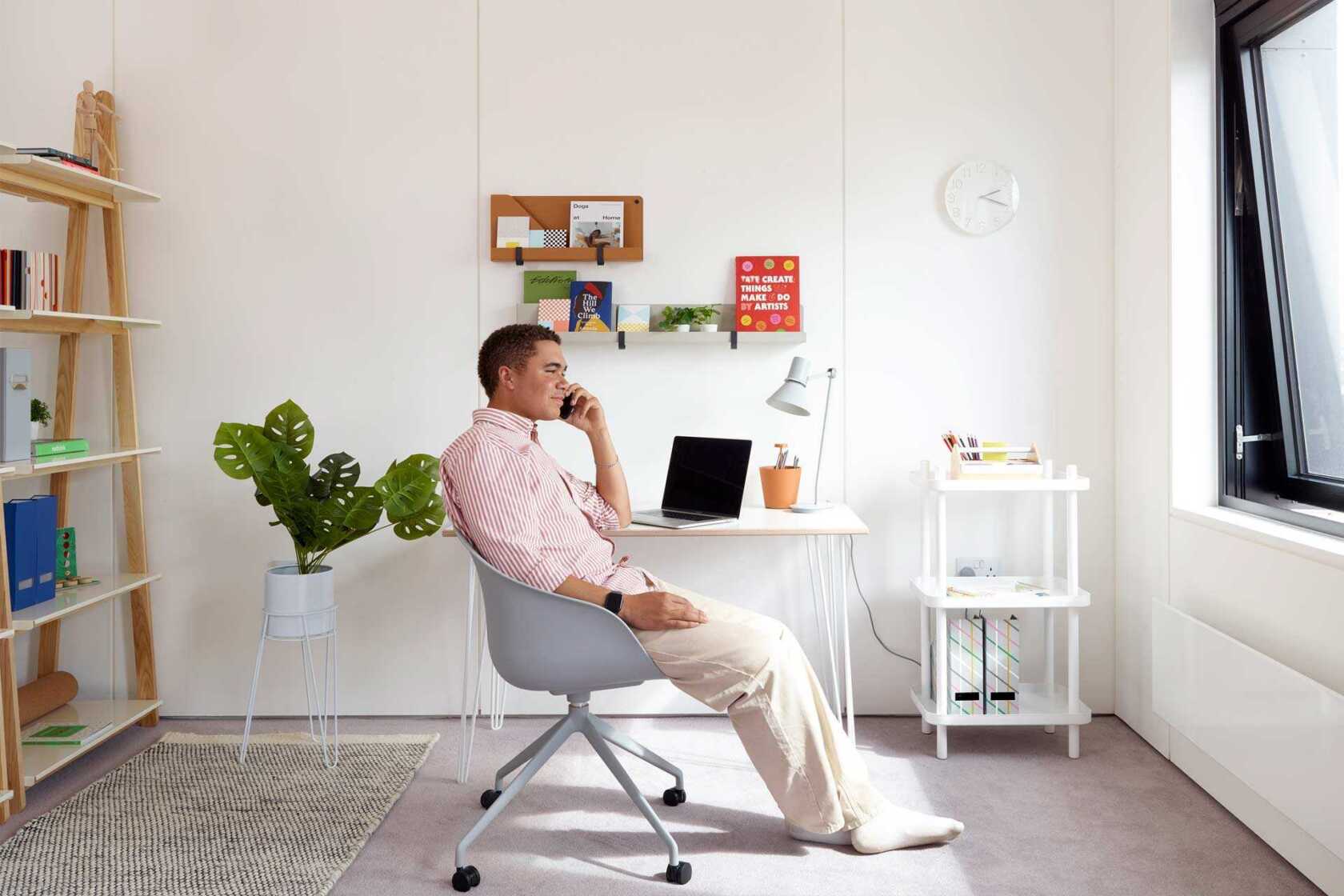 One floor up, and the first room you'll arrive at is the family snug and home office – a space for working from home, reading, or relaxing away from the main living space downstairs.
Showcasing just how much room you have to play with here, we added a desk, loads of shelf storage for the family library, a modern, rocking, reading chair, a sofa bed, and a soft cushioned floor seat – all the way from Japan – which can we used anywhere in house.
The space is flexible, so you can easily switch it into a home-schooling space with our children's desk set up with the Cambridge colouring book. We've added more colour in this room with a print from the Make Bank by Tom Pigeon – the artwork symbolises just how creative you could be in this space.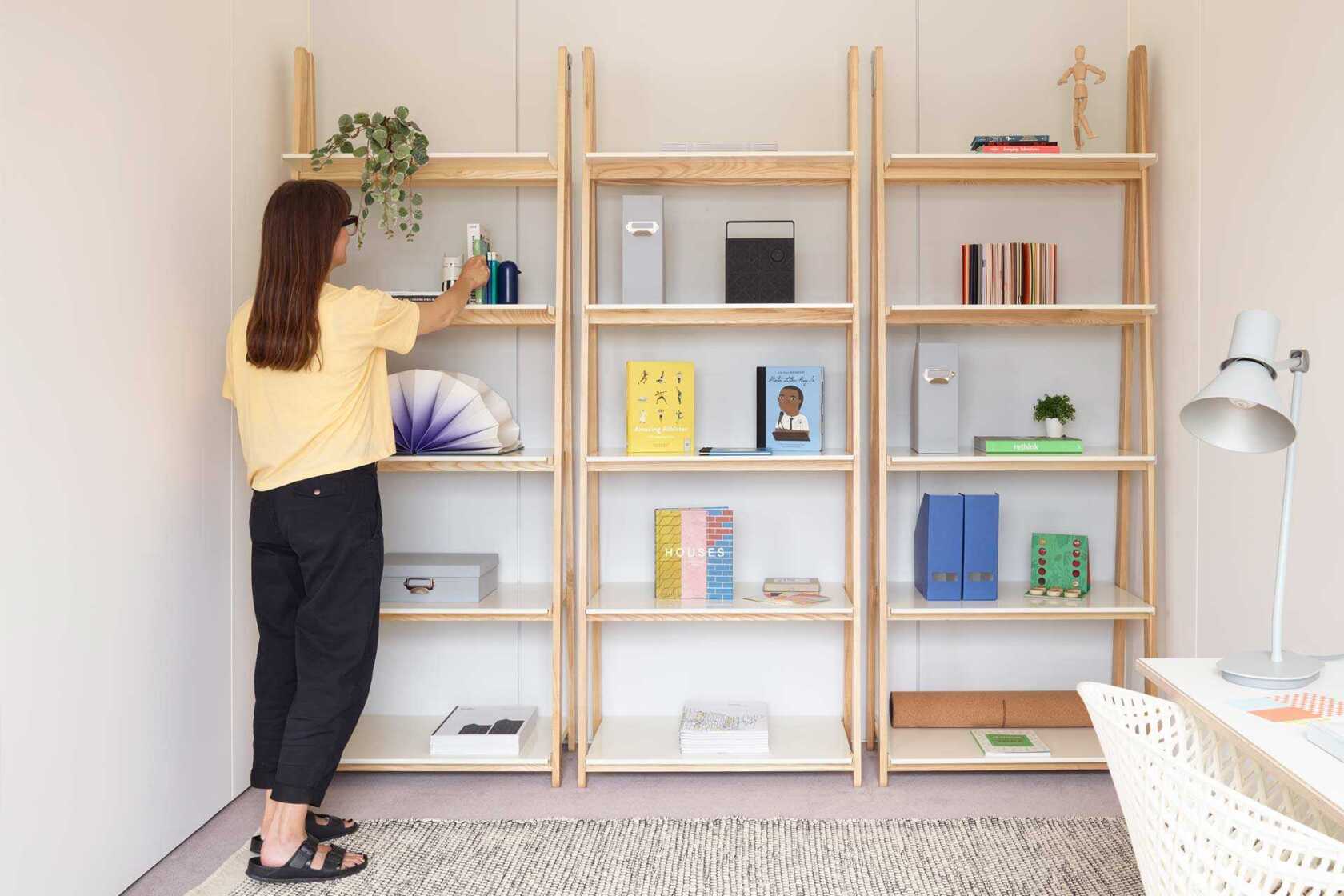 Passing the family bathroom, you'll reach your second, middle-floor bedroom. It's a green, jungle-themed children's room showcasing an array of characterful, toy animals, wildlife-inspired fixtures and fittings, and as we're in Cambridgeshire – a children's bike helmet hanging off the cabin bed.
Usually with children's bunk beds and cabin beds, your child would be sleeping quite close to the ceiling. But as these ceilings are almost 9ft high, even in a cabin bed, there's still plenty of upwards space (loads of room for jumping).
This room also has plenty of space for storage. We added bold, functional, green wardrobe and cabinet storage from an independent brand called Mustard Made. The storage units are flexible on the inside with loads of room for clothes, toys, and books – so there's no excuse for a messy bedroom.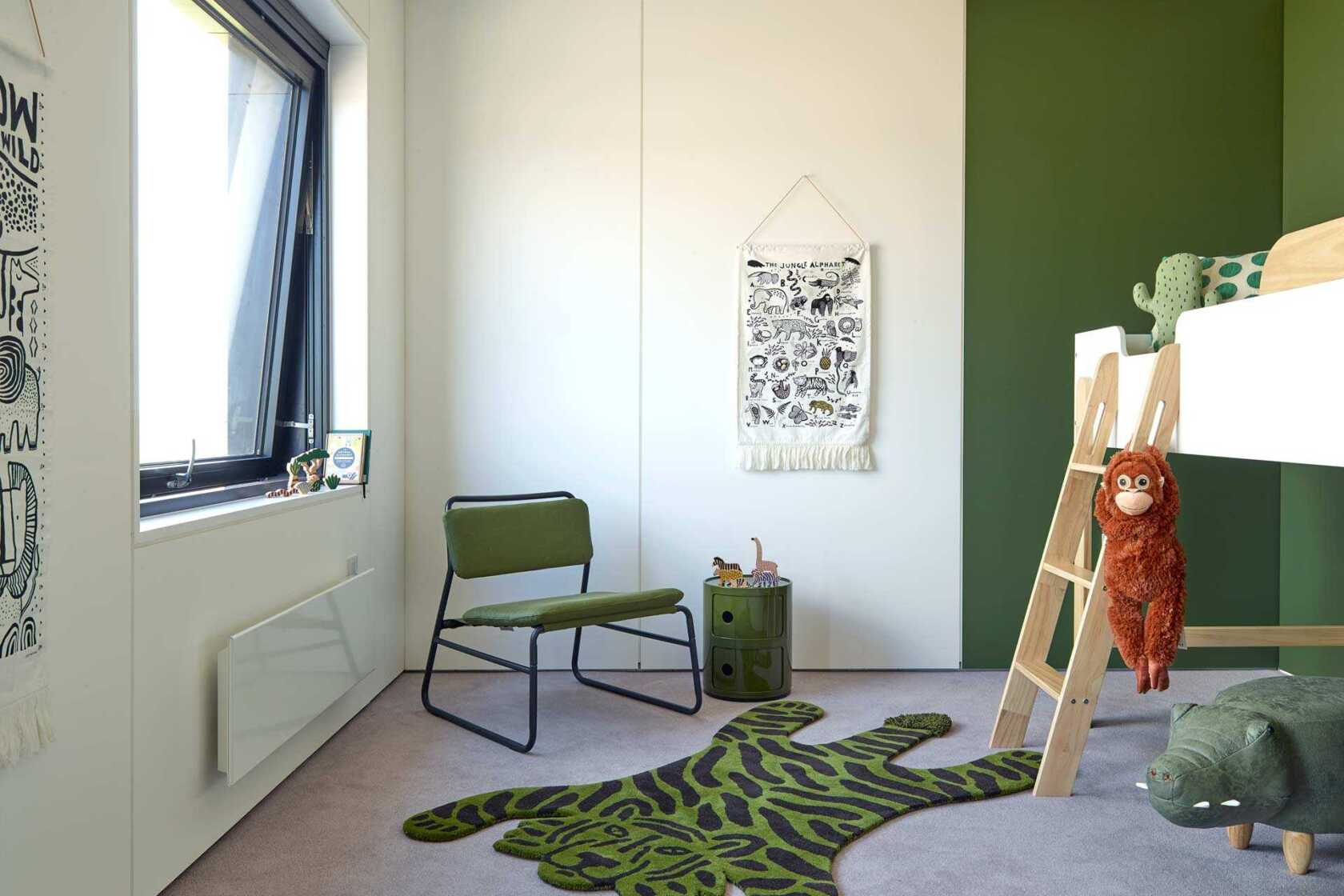 On the top floor of the garden living show home are two bedrooms with ensuites.
The guest bedroom, for family and friends, is a really beautiful space with a warm, earthy colour palette. You'll find thoughtful details here including space to put your overnight bag, a hanging rail, a window box seating area, as well as a dressing area by the mirror and, of course, a comfortable double bed.
This is an L-shaped room, so just round the corner from the bed, there's even more space for a chest of drawers sat next to the entrance to the ensuite with a shower.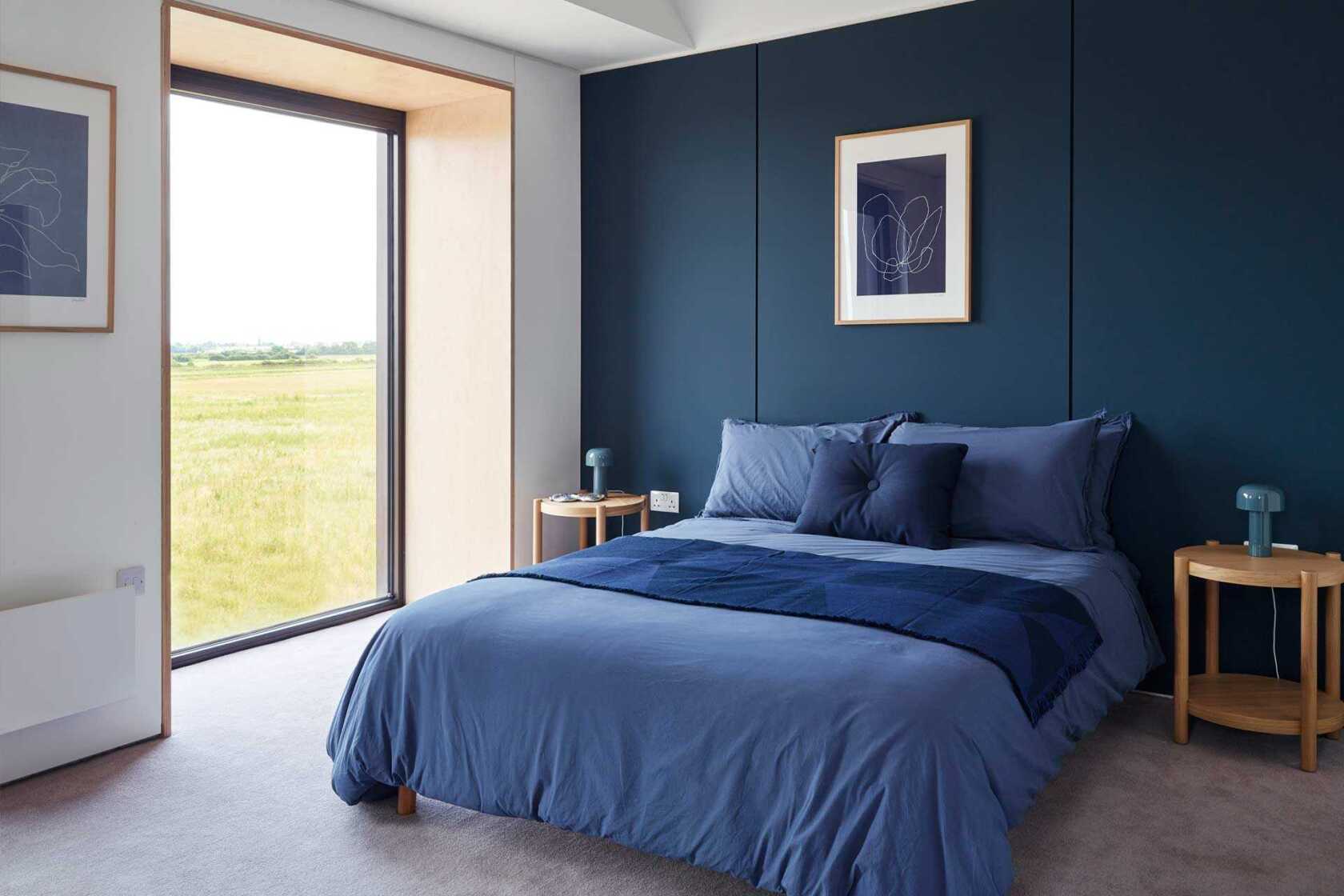 The more generous master bedroom – also with an ensuite shower – is spacious and bright, with tons of light pouring in from the room's key feature – a walk-in window overlooking fields of greenery and the views beyond Inholm.
We used darker shades of blue for the feature wall and bedding to create a more adult feel to the room. It's a really calming space to relax in, a real haven from family life at the end of the day. You can sprawl out on your bed or settle down with a book in the reading chair by the slit window in the corner.
We wanted to showcase how you can use storage in this space, so we've added a beautiful wooden, full-sized wardrobe – and honestly, there's more than enough room for at least another one if your shoe collection is bigger than ours!
Inholm's first-ever show homes are now open. To book, contact Brandon by emailing inholm@housebyurbansplash.co.uk or by calling 01223 867 000. Love interior design? Find out how to get the look by following House by Urban Splash on Instagram @housebyurbansplash.
Want to be kept in the loop about all things Urban Splash? Then sign up for Newsplash!
Our monthly news round-up with the latest and freshest news on property development, place-making, housing, architecture, events and careers sent straight to your inbox.
Looking for something else?