Press release - 7 June 2021
Artist David Scott partners with local children for new poetry project
Longsight born wordsmith and BBC Radio Manchester presenter, David Scott, has been working with some of the city's up and coming talent – the children at New Islington Free School.
As part of a project about what makes Manchester 'Home', David – who is also the frontman of alternative hip-hop band ARGH KiD – has been working alongside the year 6 pupils to find out what's so special about New Islington in Manchester by using art and poetry as a creative outlet.
The modern housebuilder House by Urban Splash is working with David as part of an ongoing projet which will see the pupils' works help form part of a new piece David is working on that will be unveiled this summer.
David explained: "The last year has been unbelievably tough for kids – they've had no real outlet to express their feelings, so when the team at House by Urban Splash invited me along to work with the children on an arts project, it was right up my street. As adults we all try and make the best home for our kids but knowing exactly what makes a home for them is priceless.
"Writing down or drawing out our feelings is wonderful therapy and some of the lines the kids came up with are award winning. One masterpiece said it all for me with the line "The things to do, the sights to see, brilliant street art filling all with glee. Our music, our culture, unmatched and upbeat, this is what Manchester means to me." That kid summed it up in one. And there's certainly some talented little artists at New Islington too – Banksy watch your back! It was an honour to be a part of the project and I can't wait to go back and see them all again soon."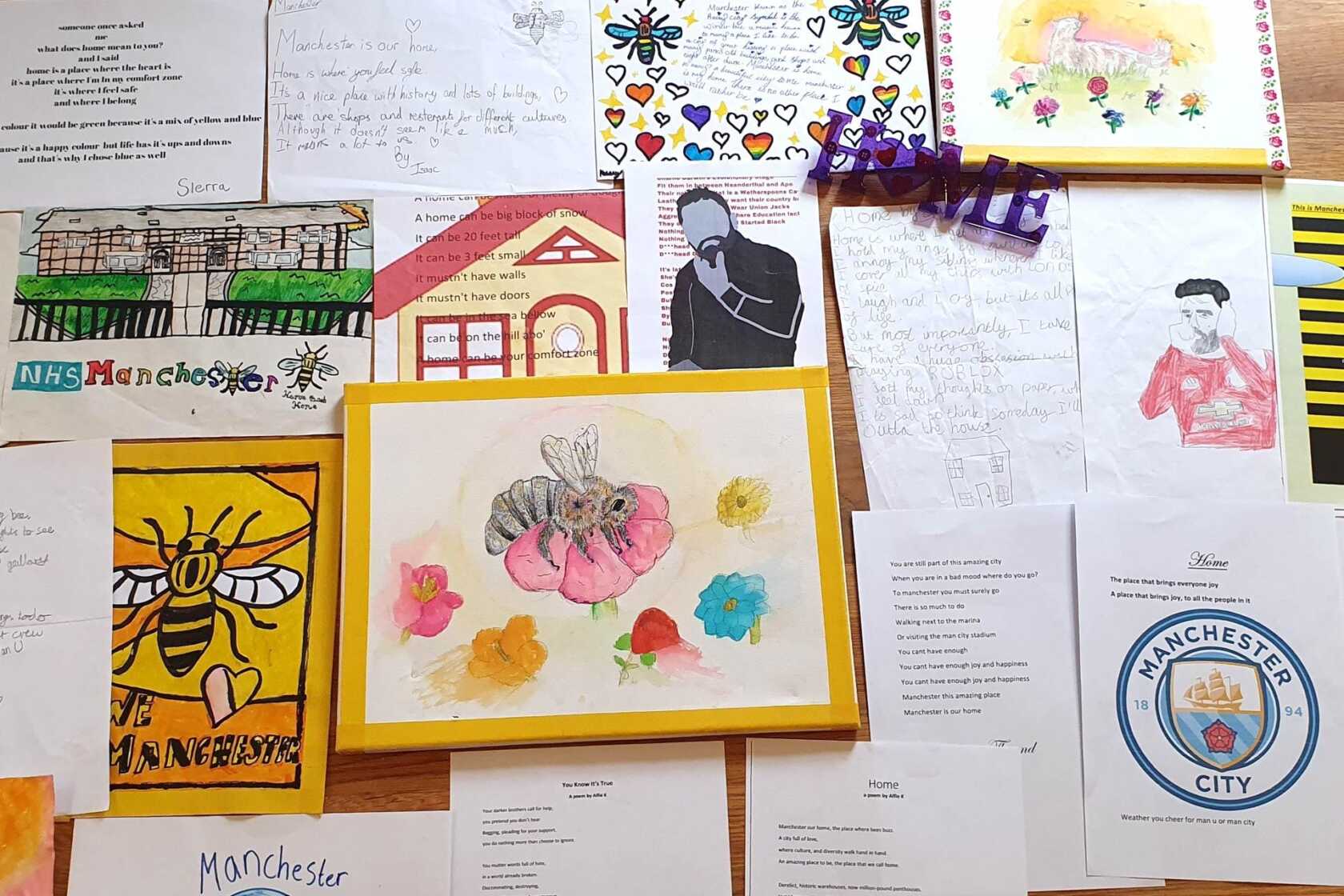 The arts class was part of a wider regeneration project at New Islington which is focusing on the positive difference the neighbourhood is making to everyone who lives, works or plays there. Just a stone's throw from Manchester city centre, New Islington has already earned its special reputation as an independent thriving new quarter for the city, offering an eclectic range of food, entertainment and workspaces.
The area is now an established community filled with family homes, apartments and affordable and social housing aligned with independent businesses, places to exercise and its very own marina – a tourist attraction in itself. Additionally, there is also the New Islington Metrolink stop, the OFSTED outstanding free school and a health centre.
House by Urban Splash, Toby Brown, concluded: "We're passionate about the arts and embracing the soul of the communities in which we work.
"At New Islington we wanted to not only give our youngest residents a platform to share their views, but also give them access to an immensely talented Mancunian like David. We now plan to display the work around the area and celebrate what New Islington and Manchester means to the people who live here.
"New Islington is a bustling, vibrant and exciting neighbourhood – and a wonderful place to call home. We've continued to grow the area, even during the difficult past year, and can't wait to show more people around and welcome more residents to the area."
Looking for something else?