We've got a rental portfolio brimming with award-winning properties right across the country; from studio apartments through to five-bedroom family homes.
Our homes, which are available furnished or unfurnished, are in urban, well-connected locations in some of the best cities in the UK. From apartments to rent in Bradford – where our Lister Mills rooftop pods boast great views and the David Hockney Gallery nearby – to our modular family homes at Port Loop in Birmingham – the city's most exciting new waterfront community. We've got homes to rent in Manchester too, where our apartments and houses at New Islington are right by a park, marina, OFSTED outstanding school, the infamous Pollen Bakery, and Ancoats – the world's 13th coolest neighbourhood.

Jump to:
Available homes
What's it like to rent with US?
Testimonials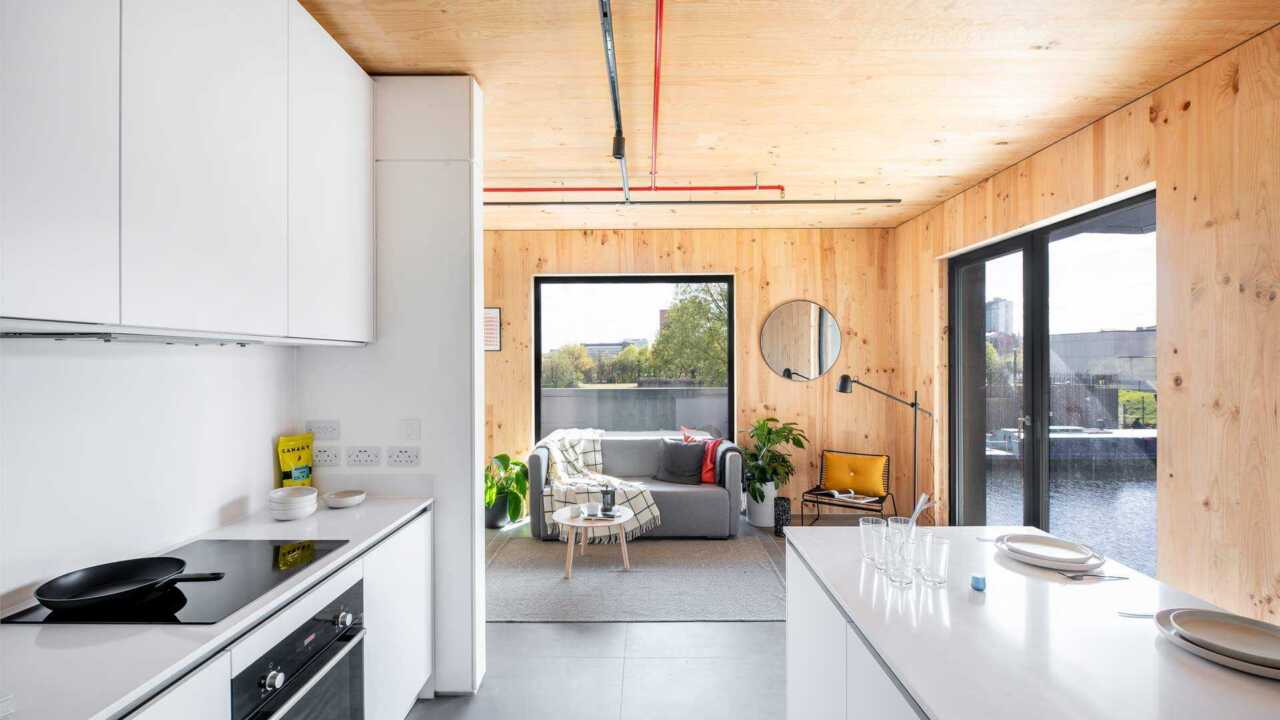 Homes are available to rent all over the country. Simply decide where you want to live, then take a look at what's available below. To book a viewing, simply contact our team on 0333 666 9999
View all homes to rent
What's it like to rent with US?
We've ditched the red tape so that moving in is simple; our tech-savvy systems make for a paperless sign up process. Best of all, we don't charge you fees and we have deposit free options available, while our flexible leases mean you can rent from six months through to many years, and we'll accommodate you if you want to move to another home within the portfolio – even if it's in another city.

And to top it off, Urban Splash will be your nice, friendly landlord; our team's managed rentals across our portfolio for more than a decade now, with an expert knowledge of our buildings thanks to our role in the design, construction and completion of each home.
Renting with US

Award-winning homes

To date we have won over 420 awards for architecture, regeneration, marketing and enterprise. We always aim to build exceptional homes, homes we would like to live in ourselves.

Renting directly through US

We have over a decade of experience in renting homes along with an in-house and out of hours maintenance team with expert knowledge of all of our homes.

Deposit free options

Urban Splash were the first company in Manchester to team up with Flatfair, offering an affordable option to tenancy deposits. Terms and conditions apply.


Flexible leases

Rent with US for anything from six months to multi-year tenancy agreements, with potential to purchase after a minimum rental term. (minimum term can vary, terms and conditions apply)

Homes throughout the UK

We offer a variety of homes in cities all around the UK. Everything from studio apartments to five-bedroom family homes with gardens and parking. Furnished and Unfurnished homes available.

Personal, tenant-focused service

We carry out accompanied check-in and check-out processes to ensure your move goes smoothly. We offer a paperless tenancy process, with an average of around one week from viewing to application success.
We believe in the power of great design to create beautiful homes, and our residents and homeowners think so too. Take a look at what some of our residents have to say below.
Looking for something else?