Guest blog by Leanne Cloudsdale
Concrete Community
Leanne Cloudsdale is a journalist who, after a long spell living in London, put down her roots at Park Hill. In this article she talks about life in Sheffield's 'concrete community' and establishing a new series of events that explore and celebrate modernist architecture.
After decades of living in London – followed by a brief stint in my home town of Hull, I felt the need to put down roots somewhere other than the capital. Park Hill had been a favourite of mine since the 1990s, when I was a student in Sheffield. With broad shoulders stretched out across the top of the city centre, it was definitely an architectural force to be reckoned with.
When the subject of Park Hill was raised, opinions among Sheffield-folk had always been divisive, but for me, it represented an unapologetic testament to modernist thinking. So when I discovered the next phase of refurbishment was almost finished, I let my curiosity take hold and jumped on a train to the 'steel city' for a look around. Fast forward to May 2022 and I was moving into Phase 2.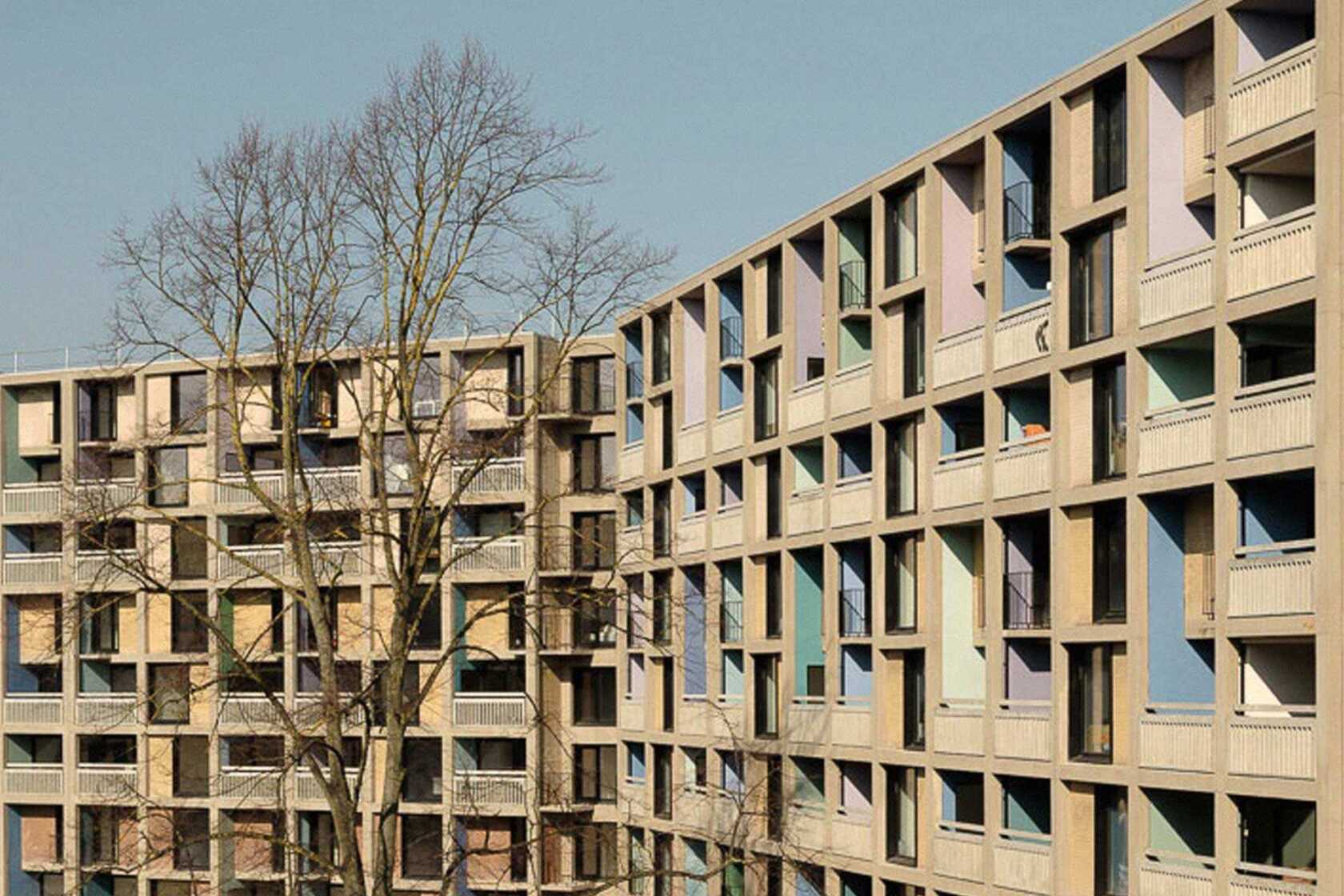 In the weeks that followed, a strange thing started happening. Chance encounters on the walkways with other new residents developed into exchanging phone numbers. Texts turned into cafe meet-ups. Instagram follows and WhatsApp chats lead to group day trips and visits to galleries or restaurants. Neighbours became real friends. People I actually wanted to spend my spare time with.
As a journalist who has worked in the design industry for a long time, the Park Hill phenomenon had me thinking about what made it feel so special. Was it just based on our mutual love of concrete, our collective pride at living in a grade II* listed brutalist building, or our determination to create a brand-new community? There seemed to be something else that was difficult to decipher, but made us want to connect with each other. I started to ask myself the question – is it the building? Is it the people? Or is it a combination of the two? With that in mind, I decided to launch Concrete Communities, in a bid to try and unravel the conundrum.
I convinced a bunch of brilliant design industry experts, along with Phase 2 architect Annalie Riches (from Mikhail Riches) and Urban Splash's Mark Latham to head to Sheffield for the first Concrete Communities event. The idea behind it was to generate an open and honest debate about how modernist communal living can positively benefit our mental health. I wanted to kickstart an unscripted, unstuffy conversation about good design – and how it should be discussed and enjoyed by everyone equally.
Naturally, Park Hill was the focus for Event 001. It was a sell-out, with 200 people attending.
It seemed I wasn't the only one wanting to celebrate J.L. Womersley's brutalist masterpiece, which has defined the Sheffield skyline since its completion in 1961. The evening was a resounding success, with both panels sharing their well-researched, uncensored views and some thought-provoking responses from the audience during the final Q&A at the end.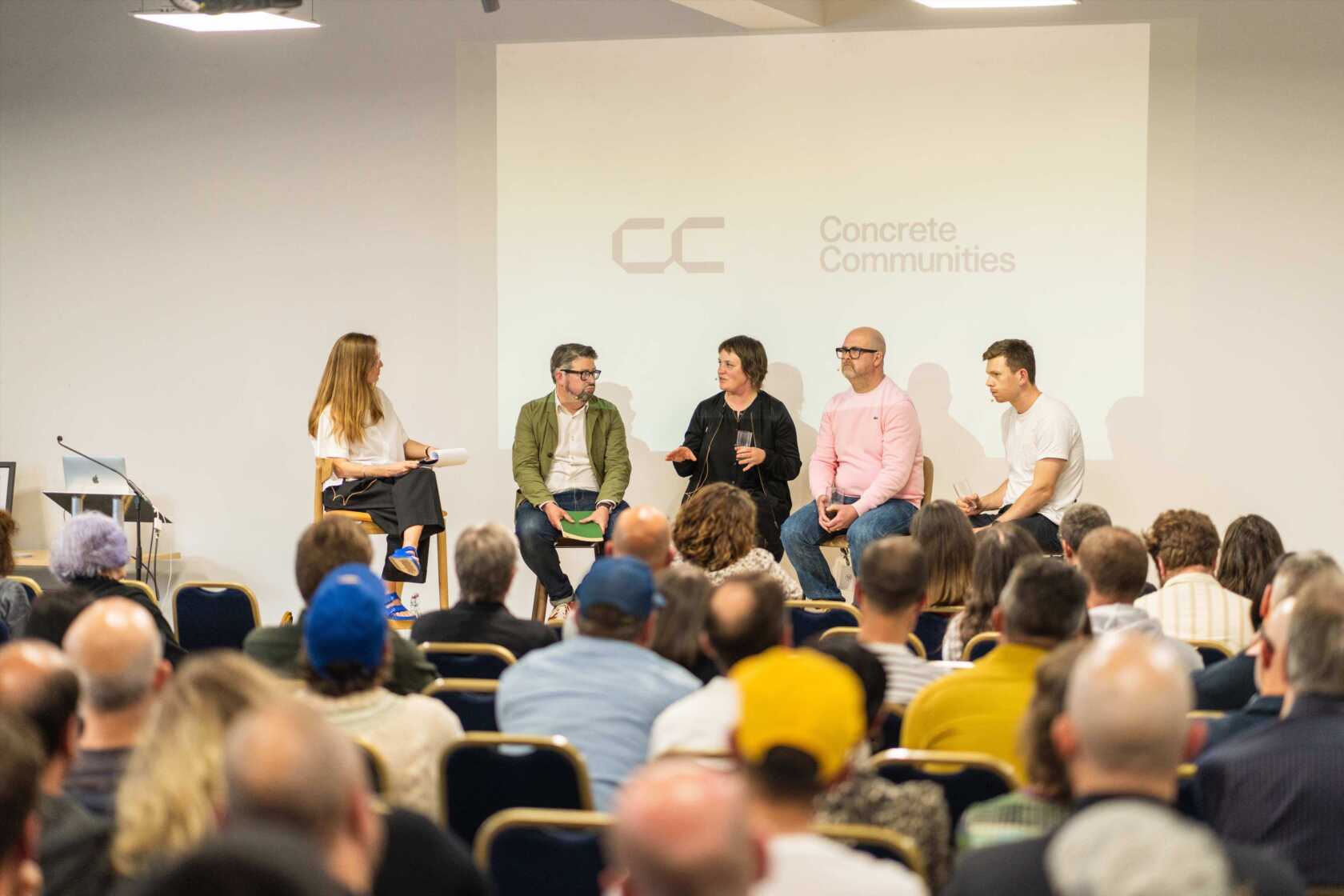 Love it, or hate it, this place has a special resonance. With Concrete Communities as the platform, I'm hoping I can join forces with environmental psychologists, architects, writers, designers and experts to decode what makes certain places and spaces harbour a strong sense of community. The layers of history here at Park Hill have been peeled back and repackaged – call it a nod to nostalgia, viewed through a thoroughly modern lens. Whatever the magic within these concrete walls, this Sheffield icon makes people matter, again. The genuine sense of community spirit here has exceeded all of my expectations. I have never been so happy in my life.

Concrete Communities Event 0002 takes place during the London Design Festival on 21 September 2023. To find out more, visit concretecommunities.com
Want to be kept in the loop about all things Urban Splash? Then sign up for Newsplash!
Our monthly news round-up with the latest and freshest news on property development, place-making, housing, architecture, events and careers sent straight to your inbox.
Looking for something else?