Blog by Rachel Thomas
Port Loop's 'Changing Rooms' inspired show home makeover revealed
Interior designer, Rachel Thomas, transforms four spaces inside Port Loop's Town House show home in Birmingham
If you're anything like us, you'll love watching a bit of property TV.
Is there anything better than watching someone's 'grand design' come together, or critiquing an 'amazing space' from the comfort of your sofa?
Recently, we've been binge-watching Changing Rooms, the TV classic rejuvenated for 2021. Inspired, we couldn't help but have a go ourselves.
Our three-storey Town House show home at Port Loop, Birmingham, first opened at the start of 2019. It hasn't dated – but we wanted to show you how to give your home a new lease of life without changing too much.
For this mini makeover, we selected four spaces – the entrance, the open-plan living space, the second bedroom, and the home working space.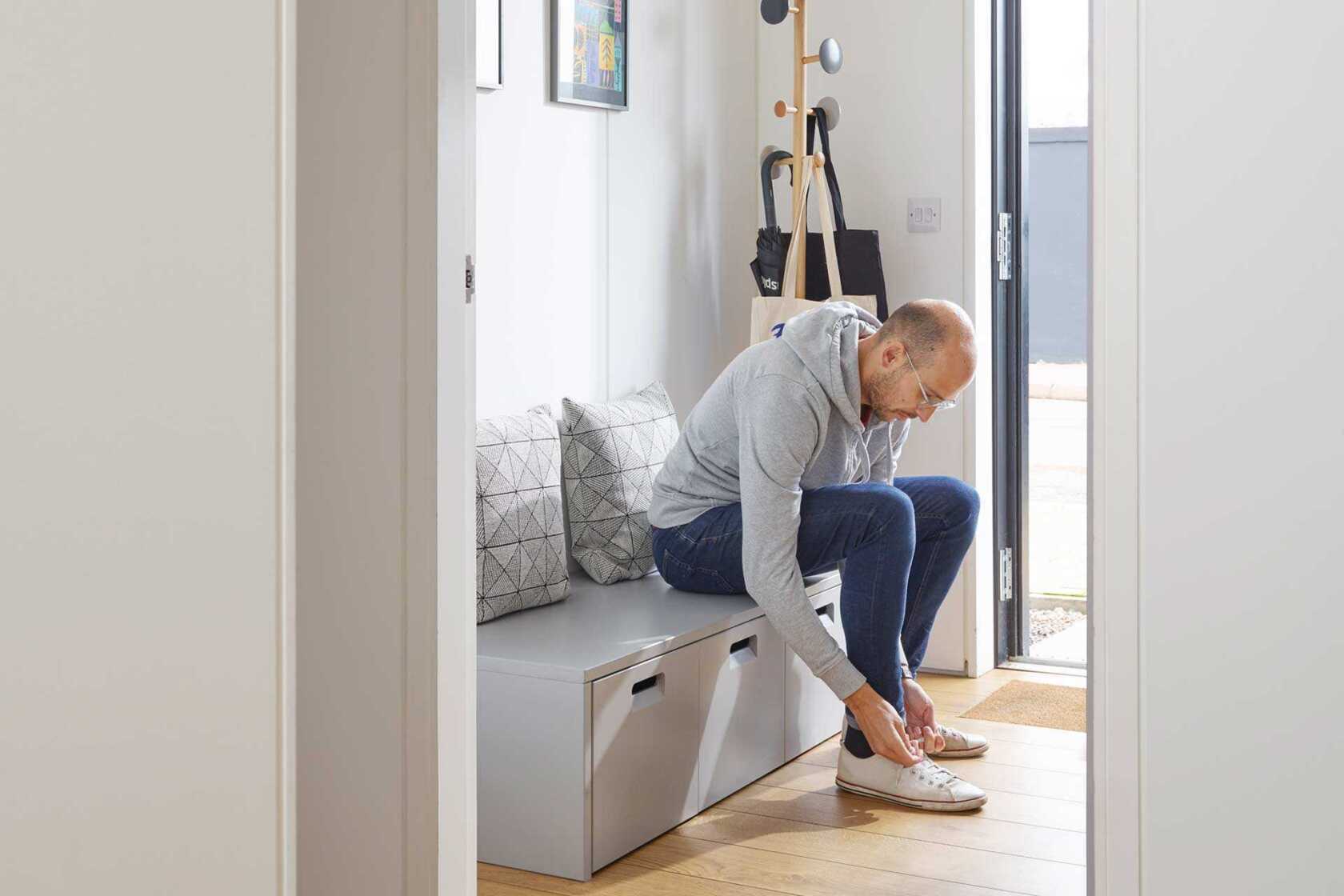 The generous lobby included in this home's layout means there's more than enough room to create a welcoming space for visitors while adding in some storage for your coats, shoes, and umbrellas.
A great storage solution for a space like this is a storage bench – a place to sit, take your shoes on and off, and neatly tidy them away too.
With the functionality of the entrance sorted, we added some colourful prints by local artist, Lucky Pablo, to introduce more of the home's character and personality.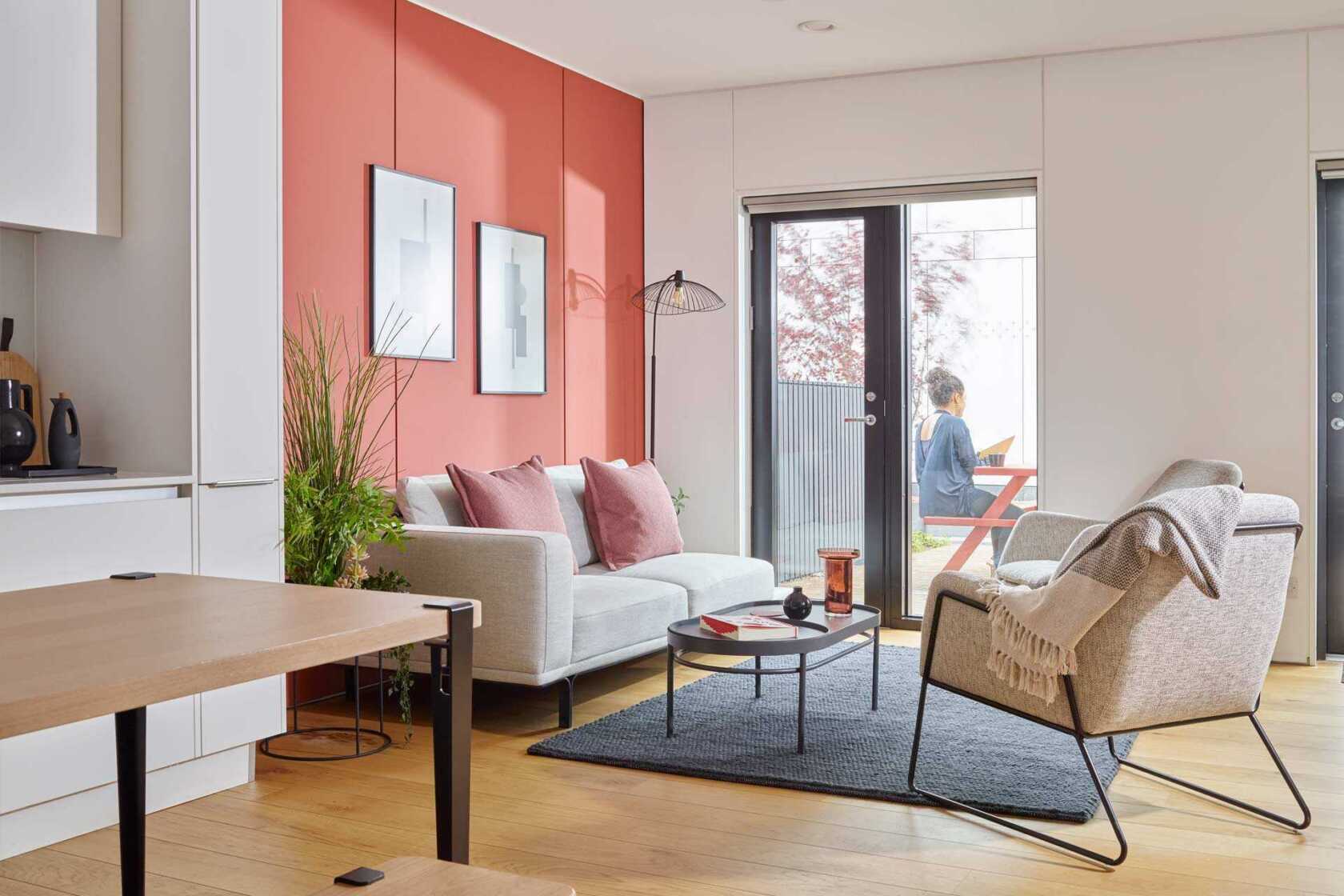 02 — The open-plan kitchen, dining, and living space
The sofa and lounge chairs from MADE haven't dated at all – but as we slowly enter the winter season, we wanted to add a bit of warmth and colour to the space.
The starting point was a feature wall. After many deliberations – and a play around with sample stickers ­– we settled on Red 01 from Lick which has an earthy, burnt umber tone to it.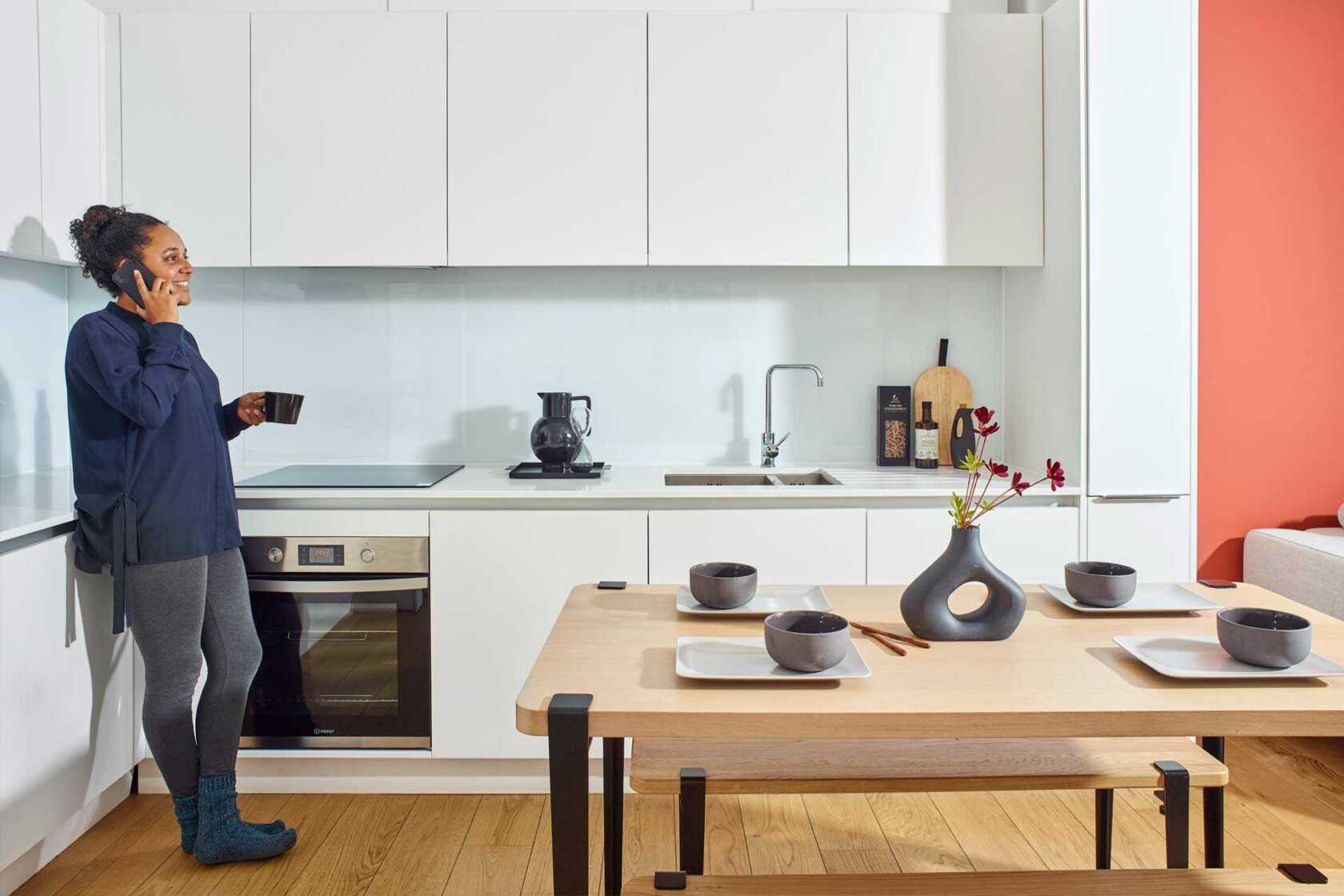 From there, we began looking at new accessories to compliment the colour.
We switched out the cushions on the sofa and introduced a thicker darker rug – something that felt softer under foot to add to the feeling of comfort.
We invested in some new artwork from Paper Collective in black frames to tie in with the black detailing in the existing furniture, and added a new coffee table book, plant stand, and vases to bring the space together.
Over the in the kitchen area, we installed a picture shelf displaying cookbooks and re-used some of the artwork from the living space.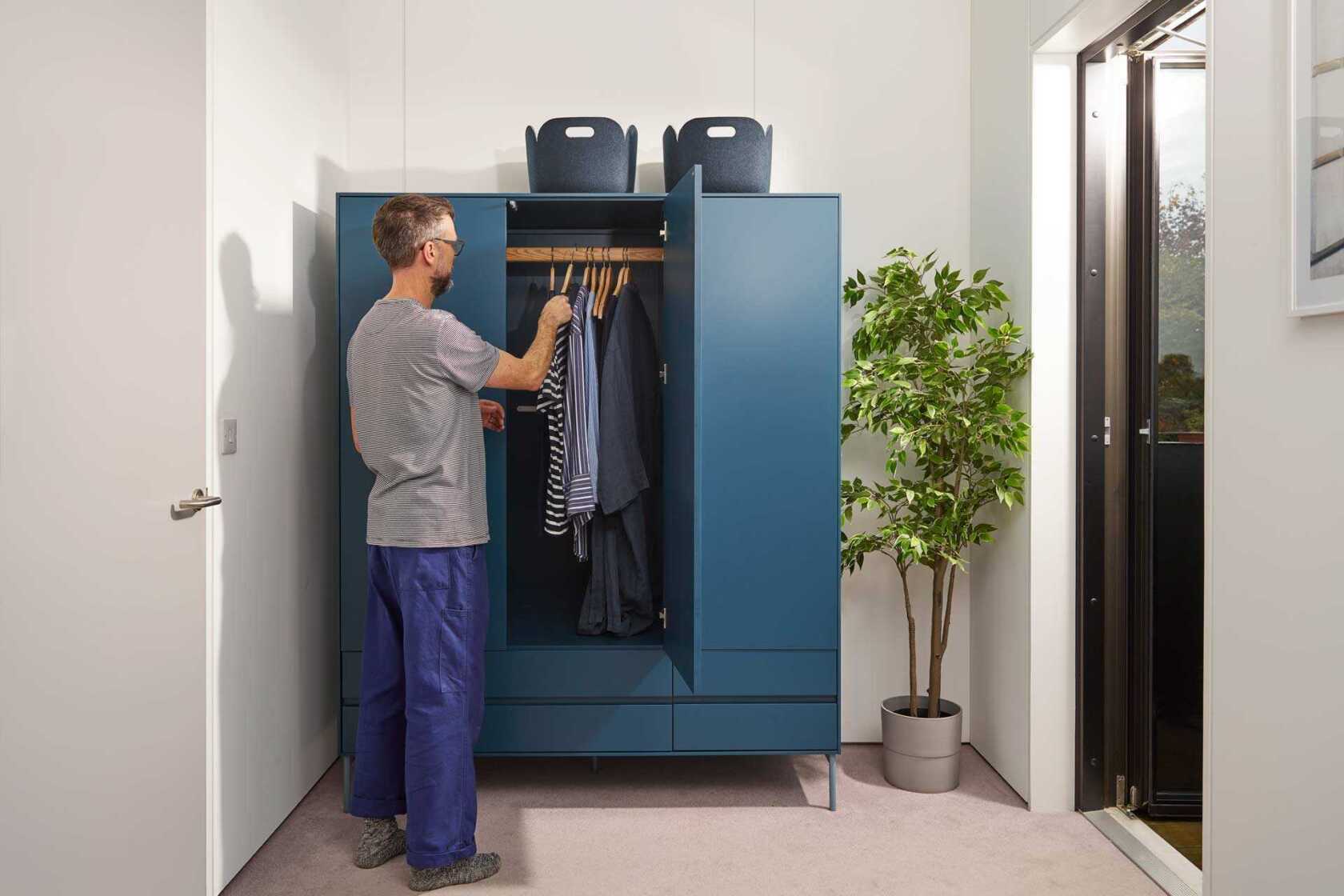 This room was originally dressed as a guest bedroom with a small hanging rail and seat. It looked great, but we wanted to show you how to incorporate more storage into a room without making it look overcrowded.
Town House homes are ideal for this – each room is designed with a designated space for storage and the super high ceilings allow you to create upwards storage too.
We added the Donica triple wardrobe from MADE in the colour blue, then topped it with 'restore baskets' from Muuto.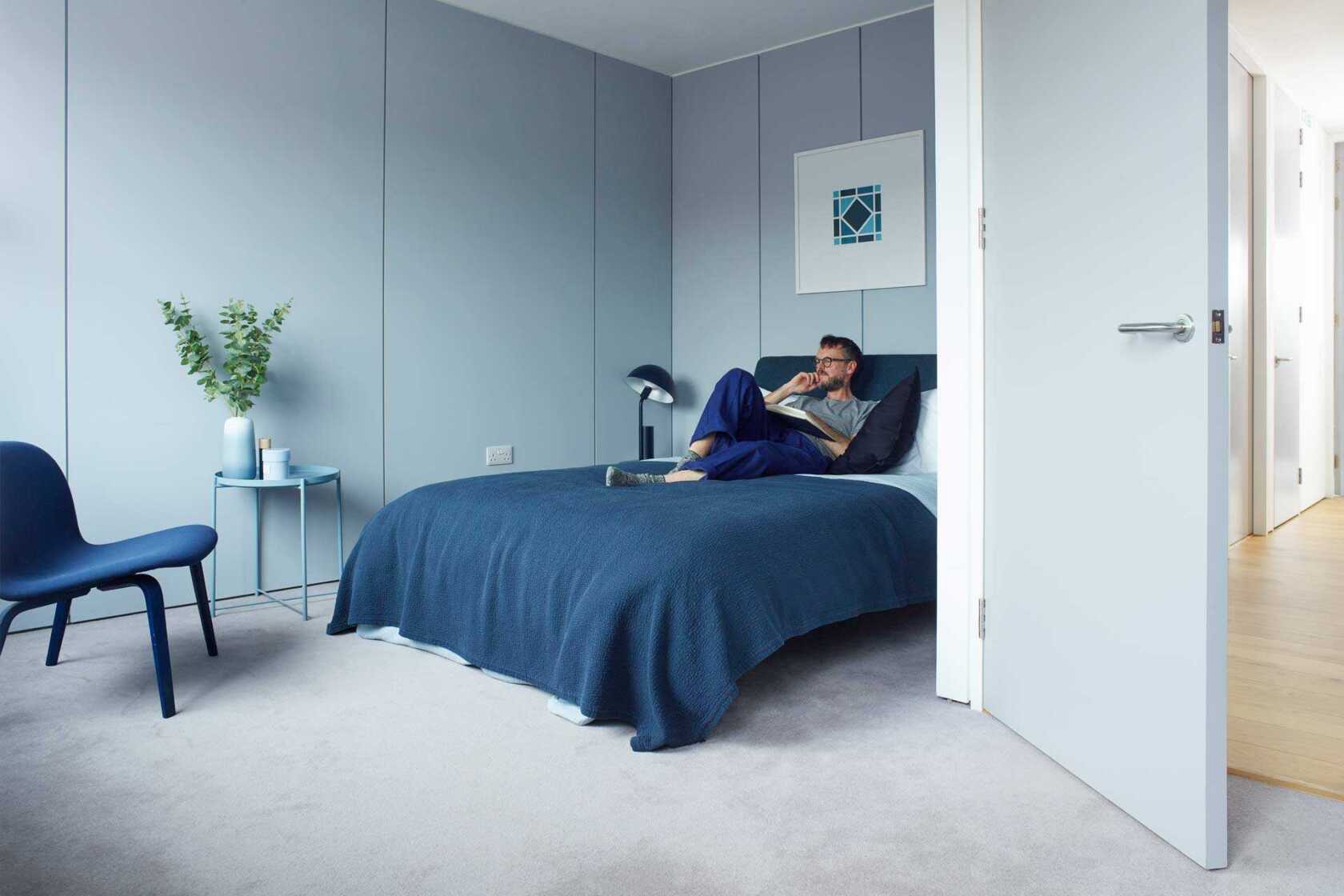 Choosing a blue wardrobe meant we could re-use the existing bed, bedside tables, and accent chair, and we refreshed the look with some new bedding, also from MADE.
To separate sleeping space from dressing space, we painted a full corner of the room in 'Lie In' from Coat, a soft, powdery blue colour with a flat matt finish.
Our favourite piece in this room, however, is the artwork by local resident and designer Robert Lockley, a piece inspired by the windows in the Tube Works, the original buildings at Port Loop.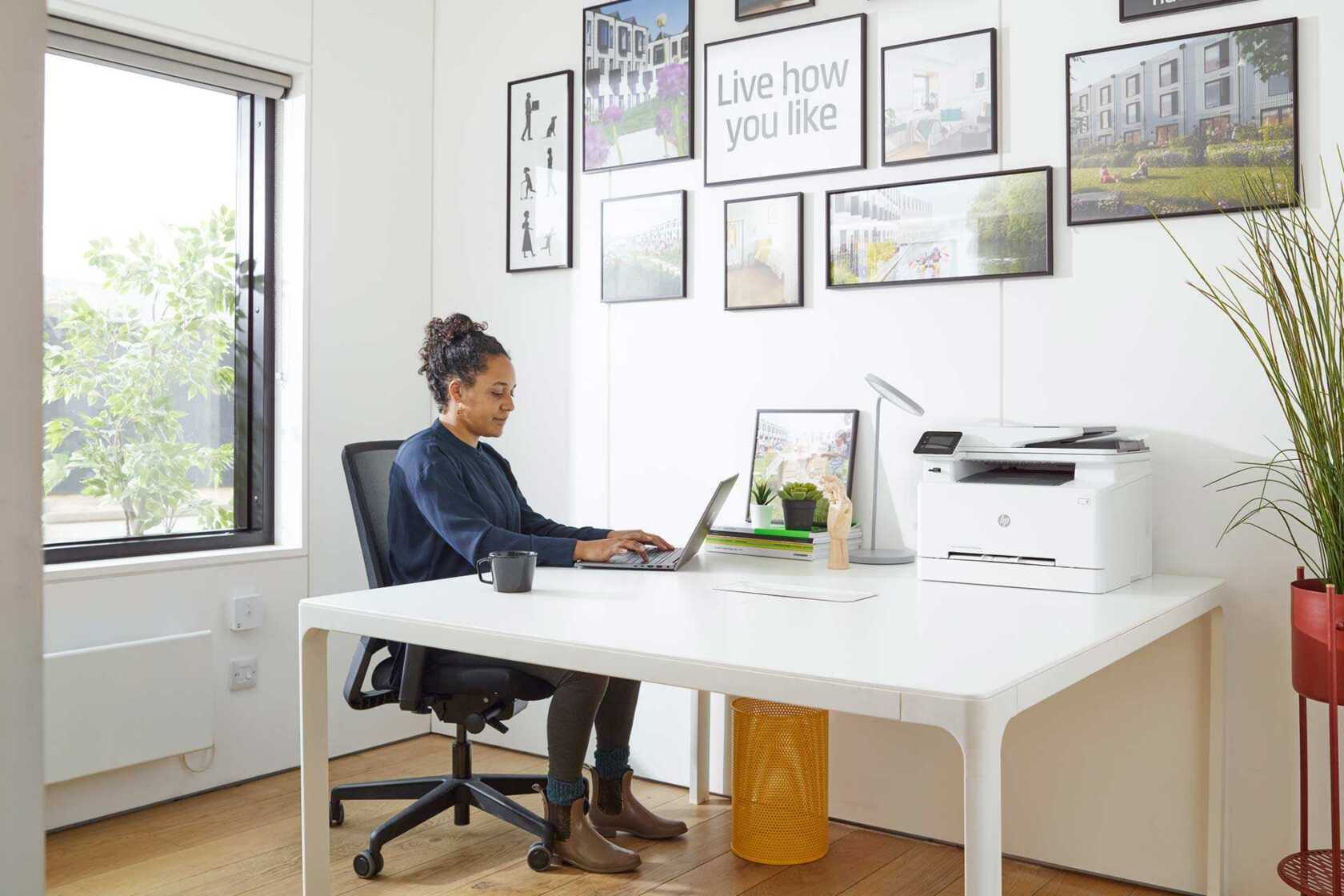 04 — The home working space
For many people, having a place for home working has become more important than ever.
So, for the final makeover space, we selected the part of the show home where our Port Loop sales consultant works.
We used all of the same furniture but added in a large filing unit (this space would be perfect for a wardrobe too).
Then, to give it a more homely feel we added a gallery wall.
We used prints of our homes and neighbourhoods, but yours could be your favourite family photos, pieces of artwork, prints or posters.
Come down to Port Loop, Birmingham, and see the show home's brand-new look in person. Complete the form below to book your viewing today or email live@housebyurbansplash.co.uk.
Want to be kept in the loop about all things Urban Splash? Then sign up for Newsplash!
Our monthly news round-up with the latest and freshest news on property development, place-making, housing, architecture, events and careers sent straight to your inbox.
Looking for something else?