Guest blog by Liz Nagle - Echo Designs
How to keep gardens nice in the winter? Go faux...
Each home comes with its own private terrace, as well as access to a large shared garden; some of the homes come with bespoke Jennifer Newman garden furniture sets too. But just how can our new residents prepare such a beautiful space for the winter months? We teamed up with interior designer and blogger Liz Nagle (also known as Echo Designs) who spent a day with us at New Islington designing some of our terrace spaces using faux plants - the perfect pieces for the winter months.
Here, Liz tells us more...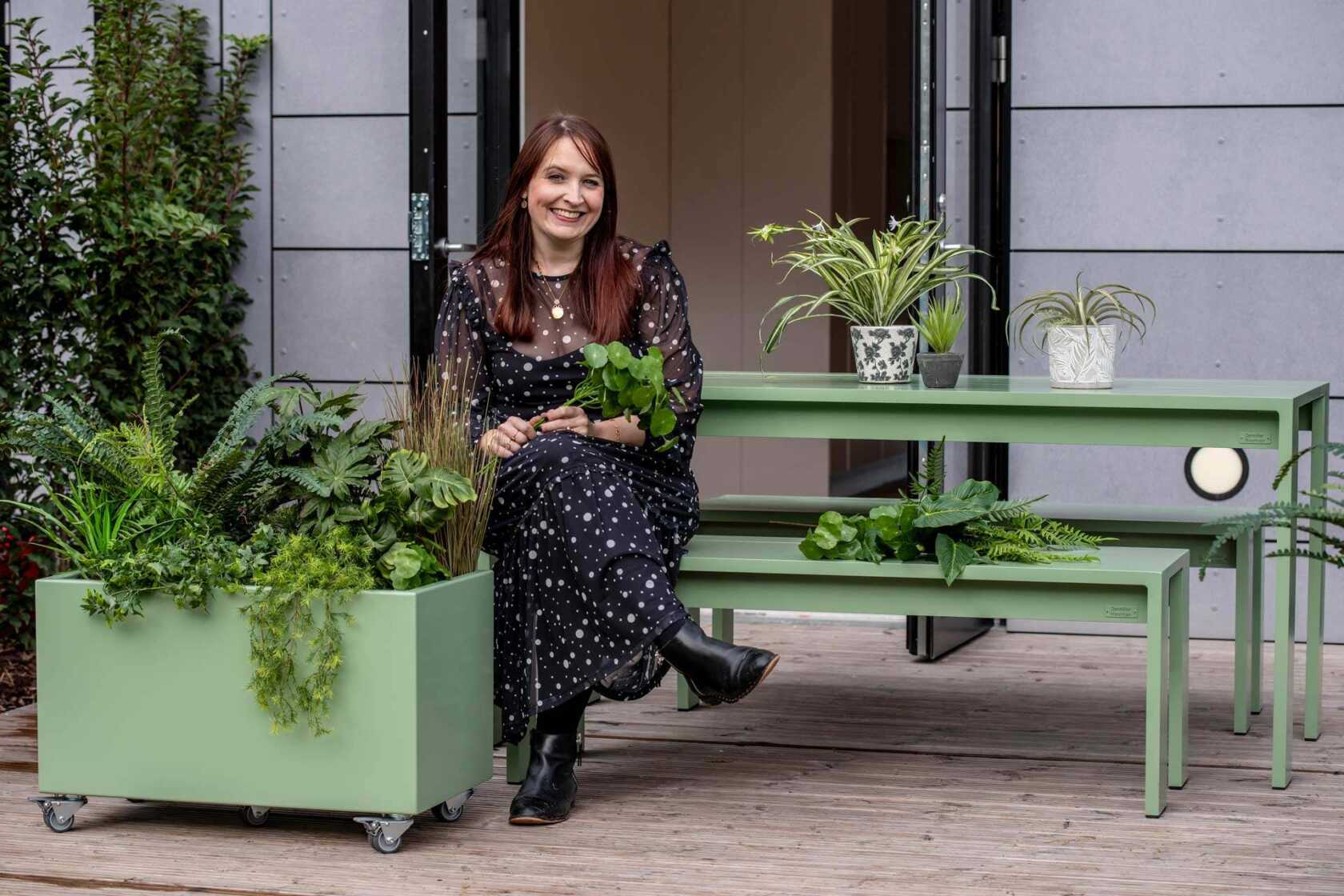 Forget what you thought you knew! Faux plants aren't those ghastly things you used to see in 80s style offices, and long gone are the days of cheap plastic; the faux world now is as advanced as the latest Nasa Spacesuit, with beautiful pieces that are perfect for low maintenance spaces - indoor or out. In fact, the variations in colour, attention to detailing and beautiful lifelike textures have me convinced that even Alan Titchmarsh would struggle to tell them from the real thing.
When I was asked to join this project and style the gardens at Piercy St, I jumped at the chance, and walking on to the House by Urban Splash site was a bit like visiting a nature reserve - the canal just yards away offering the gentle soothing sound only water can offer and the greenery outlining each property I knew I wanted to blend the faux in with its natural surroundings so I chose a pallet of varying greens to keep it realistic looking but also blended.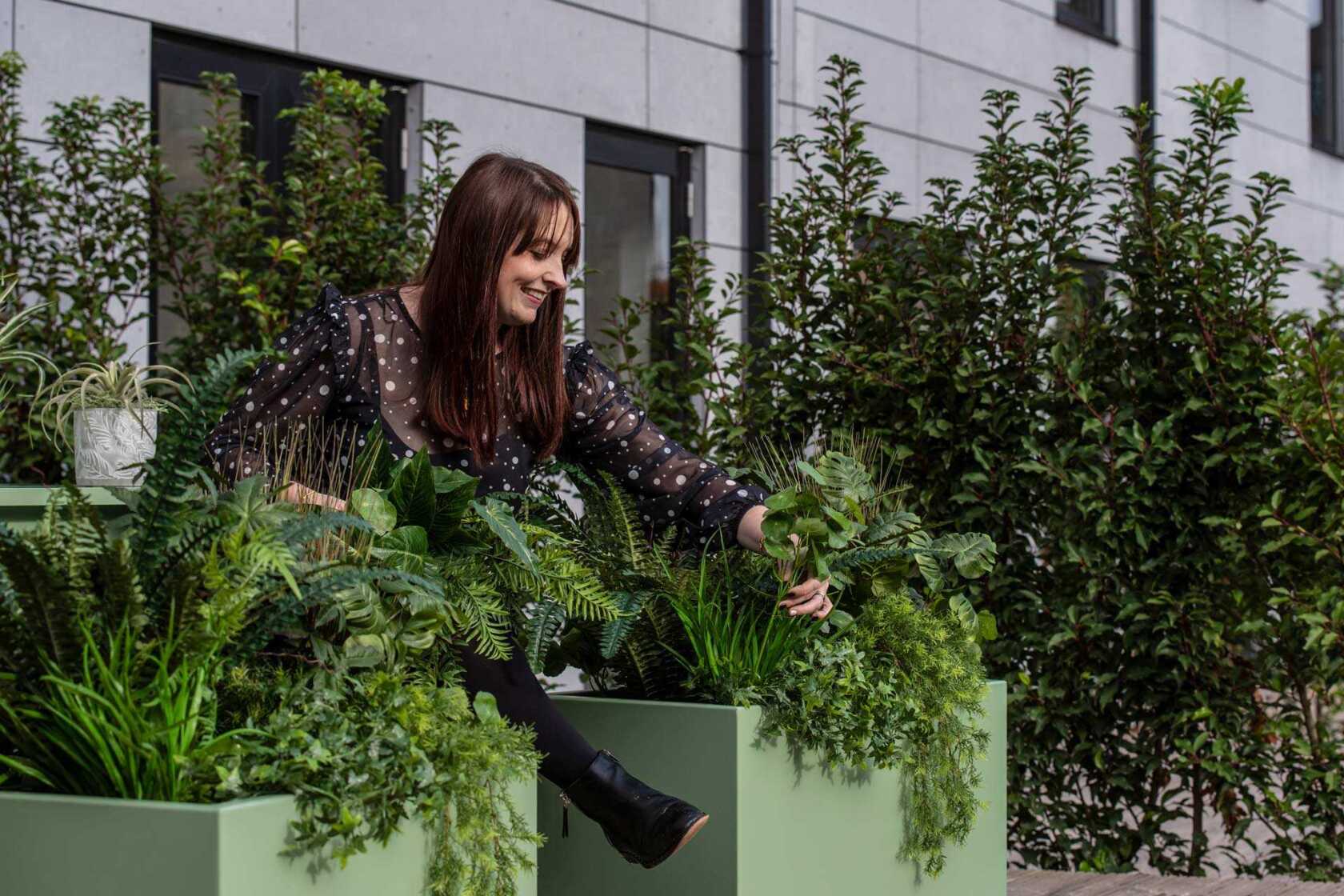 I chose a variety of plants to keep it interesting - the great thing about working with faux is that you're not tied to the seasons so you can have some fun experimenting with different combinations of plant. I based my design around two focal pieces - a large fern and a contrasting grass plant, they added the height that I wanted and created my basic structure. I then worked around those pieces with a variety of leafy varieties including monstera, fern , grasses and ivy. It's important to have a variety of textures, heights and colour variations just like the real thing would be.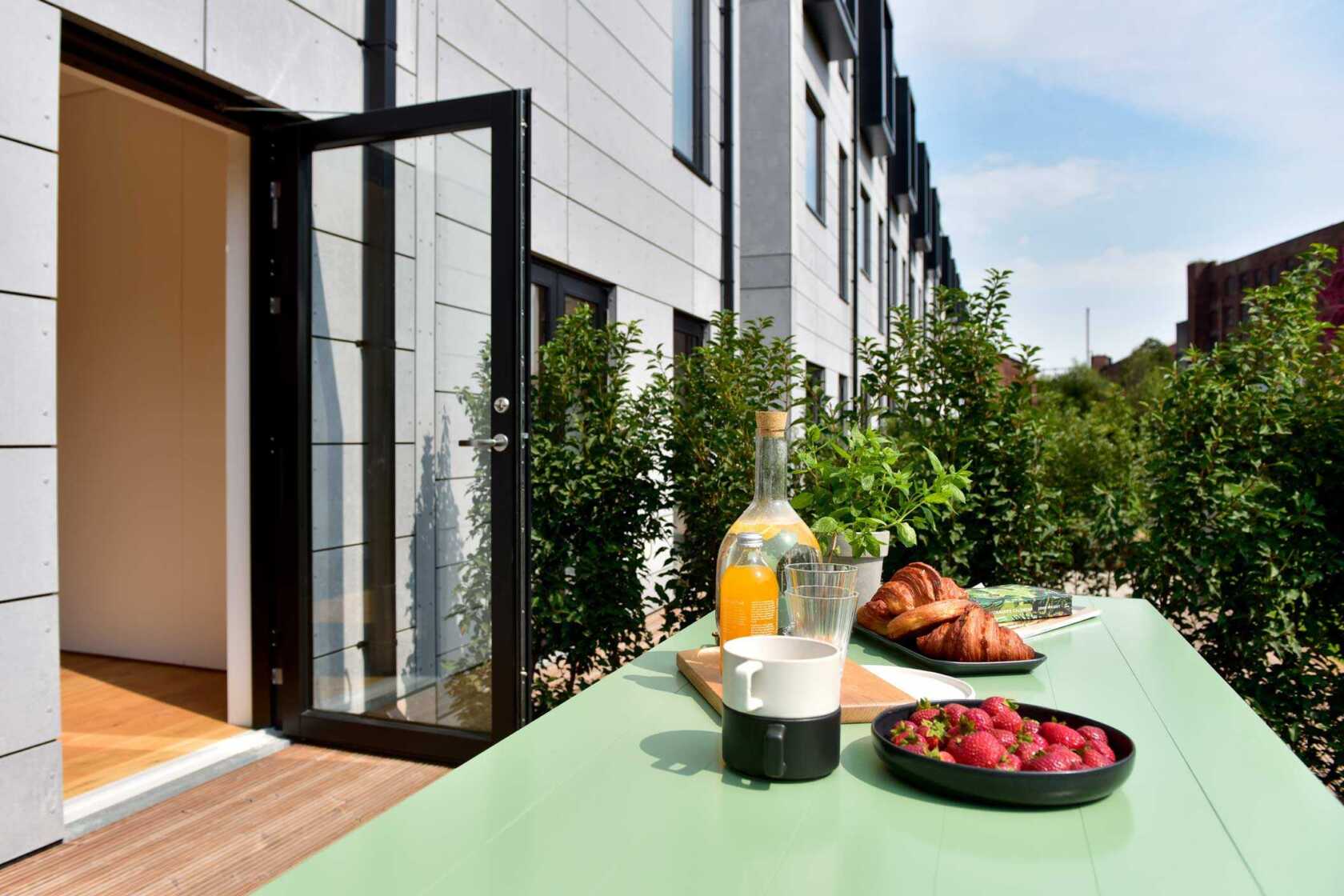 Real plants aren't uniform and symmetrical so I tried to echo the slightly wild nature of real plants so didn't restrict myself too much whilst arranging them. The finishing touches were the hanging springereli and Ivy. I love a hanging plant but chose a mid length one so as not to detract from the planters which are the real show stoppers. I weighted the planters with limestone then created a thick layer of oasis to keep everything in place once positioned; faux comes on really versatile bendy stems so you can easily manipulate them in to place.
I then topped the planters with real soil to complete the look and make it all the more realistic. I'm thrilled with the results and have positioned them at the end of the decking which leads the way into the communal gardens - an amazing concept offering residents bottomless access to greenery and the wonderful surroundings.
The final House by Urban Splash homes at Piercy St are on sale now.
Want to be kept in the loop about all things Urban Splash? Then sign up for Newsplash!
Our monthly news round-up with the latest and freshest news on property development, place-making, housing, architecture, events and careers sent straight to your inbox.
Looking for something else?