Guest blog by Andy Thomson
Creating a new green space at East Float
Our House by Urban Splash neighbourhoods are filled with great homes as well as plenty of green and blue spaces that help to promote biodiversity and wellbeing in our communities. It's something that's being created at Wirral Waters – a new neighbourhood overlooking the River Mersey being created by Peel L&P.
Within Wirral Waters is East Float, our new community of House by Urban Splash homes being created in partnership with Peel L&P. This week, the first pocket park at Wirral Waters – which stands adjacent to East Float – has launched, giving future residents their own playground by the water. Here, Andy Thomson of BCA Landscape who've designed the space tells us more.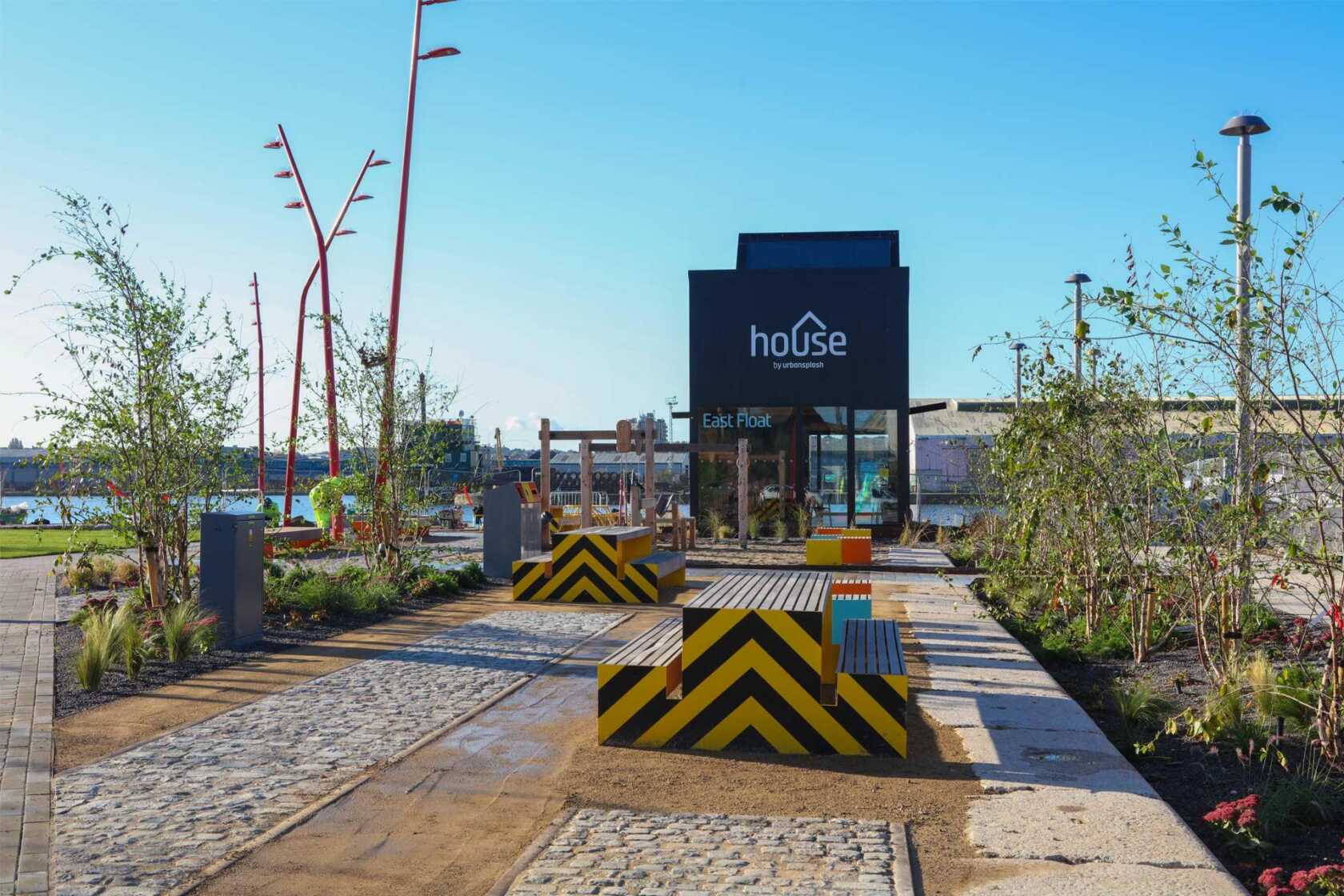 We're thrilled to have been involved in the creation of the brand-new Northbank Green Park at Wirral Waters.
This is the very first public realm space to be delivered at the neighbourhood and spans an impressive 0.7 acres of beautiful space, located directly on the banks of the Mersey and right by the brand new House by Urban Splash homes that recently arrived onsite.
The park opens up a formerly discussed site that was until recently completely inaccessible to the public. Now though, it's home to a stunning and eco-friendly place for both residents and visitors to enjoy.
Our designs have ensured the vast space is now filled with over 100 new trees and thousands of native plant species – providing a whole new 'green' site ecology. The area also boasts a fully 'nature-based' sustainable drainage system which we integrated into the park's design. The plantings will also encourage and provide a home for wildlife – whilst offering a tranquil setting for those who use the space for walks, picnics and generally enjoying the great outdoors.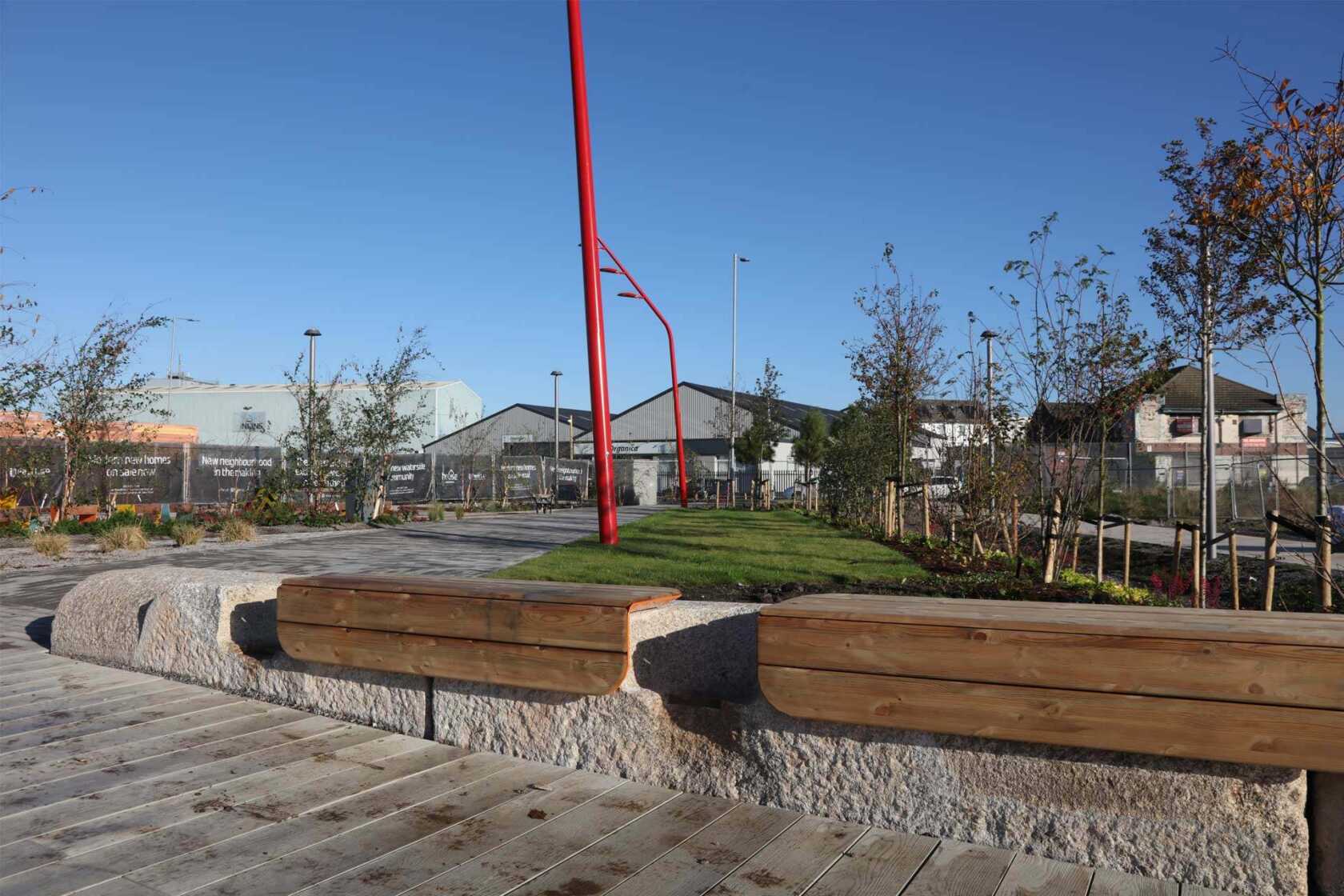 From the very start we've focused on inspiration from the fascinating history of the area, it's close proximity to the Mersey and the latest thinking on sustainable nature based design solutions – ensuring we play our part in helping society adapt to climate change, while simultaneously enhancing the visual environment of the park.
Our designs also incorporated a heavy emphasis on up-cycling of materials from the site - such as dock coping stones, rail-tracks and stone setts – in turn we created a rich material palette and savings on raw materials and avoiding unnecessary waste.
We embraced vibrant colours, with signal red, yellow, orange and turquoise popping out of the furniture; the hues are inspired by a site walkaround and historical photo mood board. These images included the hydraulic swing bridges, docked boats in the Great Floats, warehouse doors and the Drewry diesel shunters, Theseus and Wabana, that operated on the Mersey Docks and Harbour Complex in Birkenhead.
The result really is spectacular. Northbank Green opens out from the existing Dock Road to an amazing westerly vista across The Great East Float and towards the setting sun, which is why we created a series of quiet seating 'sidings' and sheltered people-friendly eddy spaces off the main flow. We also wanted to embrace colour so we incorporated bright luminous colours, signal red, yellow, orange and turquoise, which all pop out of the furniture within the park – all of which were inspired by our site walkarounds and a detailed historical photo mood board.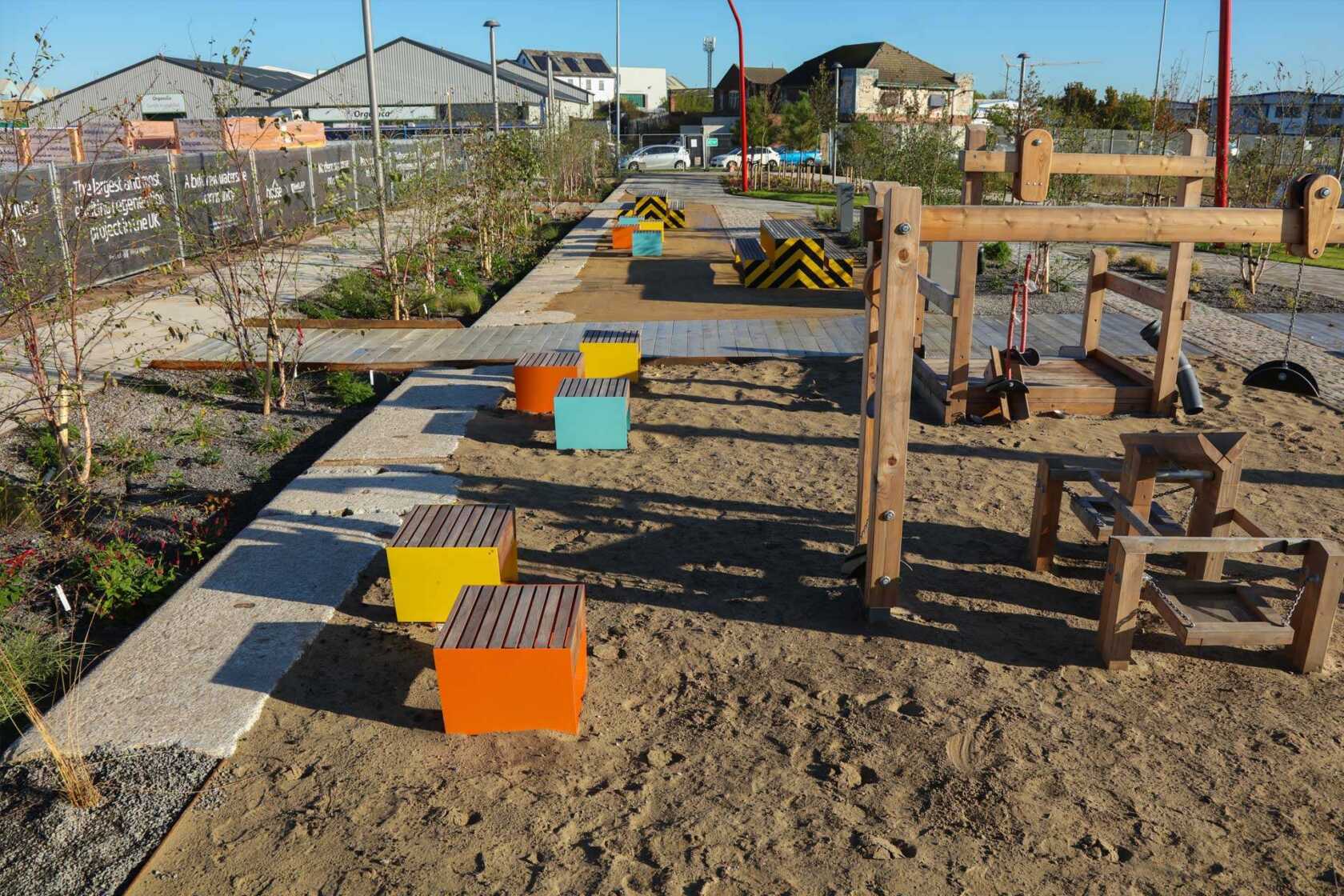 The park has been designed for everyone – from young to old – and we've embraced the history of the area whilst adding in splashes of bright colour and traditional natural hues too. There are wood play elements which were inspired by the site and its history, with sand digging equipment and moveable pulleys, inspired the old grain shifting equipment. This area will be so much fun!
We've made sure the park alternates between hard and soft design elements – and we're really happy with the lighting aspects of our design too – especially the large and imposing signal-red cranked LED lighting columns that stand watch over the park like giant self-seeded organic dockside cranes or forgotten winch supports. These light columns, along with other hard and soft design elements within the park, acknowledge and help to mediate the scale differences between the surrounding monumental Dock Architecture and a more comfortable humane microclimate. It really has been a joy to work on.
And last but most certainly not least is the House by Urban Splash dock-side pavilion which is open to those keen to embrace Wirral Waters living. It's been superbly designed by shedkm – it's a fantastic visionary building with its dramatic picture windows and it sits magnificently overlooking the new park and the great expanse of water. Northbank Green Park is a truly superb addition to Wirral Waters and we hope both residents and visitors enjoy the space as much as we enjoyed creating it.
Want to be kept in the loop about all things Urban Splash? Then sign up for Newsplash!
Our monthly news round-up with the latest and freshest news on property development, place-making, housing, architecture, events and careers sent straight to your inbox.
Looking for something else?