Press release - 27 October 2020
House by Urban Splash commences work on all final sites at New Islington including a brand new urban public garden
As it continues construction work at New Islington, the modern housebuilder House by Urban Splash has commenced work on multiple new sites at Manchester's newest neighbourhood – and confirmed that a new public park will be created.
Once known as the notorious Cardroom Estate – and the setting for TV show Shameless – New Islington has been transformed into a new community in which people live, work and play. Hundreds of homes have already been created – one third of them affordable – as well as a park, a Marina, an OFSTED-Outstanding free school, health centre and an array of acclaimed bars and restaurants.
Groundworks have commenced on two House by Urban Splash Town House sites, including 18 new homes at Stubbs Mews and 34 new homes at New Islington Marina. The homes will be customisable, meaning buyers can create their dream space using a multitude of layouts; the first 10 homes have been delivered to the site this week.
A further two Mansion House apartment blocks are also now on site; created using modern methods of construction using super sustainable cross laminated timber (CLT), the homes will overlook New Islington Marina and stand adjacent to the first Mansion House block which will soon complete, bringing 40 new homes to the area. Commercial space is being created on the ground floor of each Mansion House block, giving coffee house brands and other food and beverage operators a new opportunity to operate in the neighbourhood.

Meanwhile, the brand new public park will complete in 2021 and will be open to all. Featuring soft and hard landscaping, it will compliment the existing Cotton Field Park and New Islington Marina, bringing more green space to the centre of Manchester.
House by Urban Splash delivery director Chris Shaw said: "As we near the end of our fascinating journey of transforming New Islington, it's great to see these brilliant new homes and community space being created.
"It's a far cry from the Cardroom Estate of old; the area had an anti-social reputation with taxis refusing to drop off in the area and a fictional Frank Gallagher wandering the streets to further emphasise the dreary atmosphere. Fast-forward 20 years and it's completely transformed, with a brilliant urban population of people living in our houses and apartments, as well as a great school, foodie scene and lots of outdoor space."
The final sites within New Islington will go on sale in the coming months; new sites were released to market during the spring and summer lockdown with strong sales successes; Chris continued: "There's still a demand from people wanting to live here; we launched our Town House homes at Piercy Street this year and just one now remains on sale.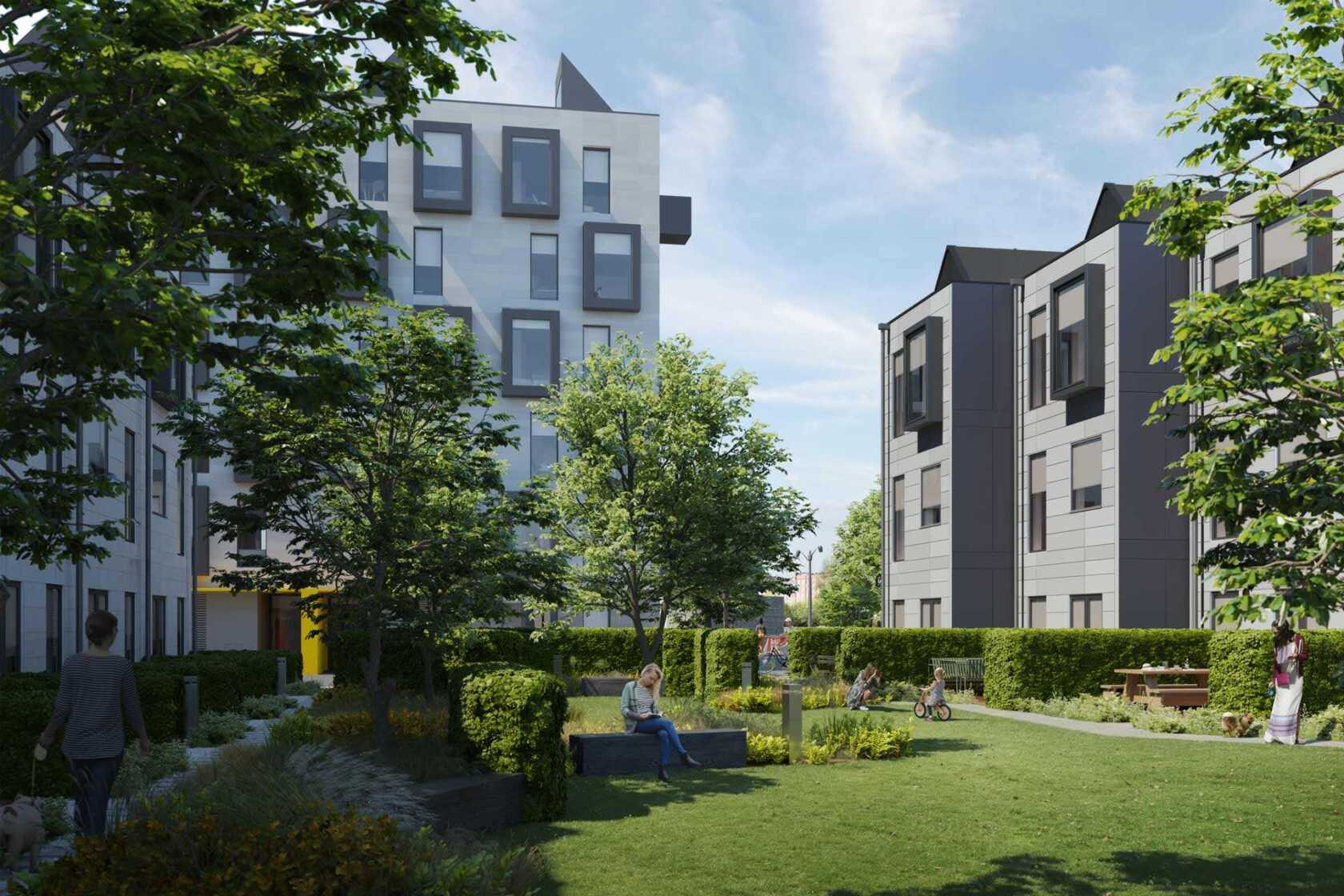 "If anything, the pandemic has perhaps heightened just how much people want to live in a house that's actually well-designed and can offer spaces to live, work, play – and home school! Not to mention the need for lots of outdoor space.
"Such features are imperative in modern life and it's great to see people recognising that at New Islington and opting to buy here; these new sites will be the final homes we'll create in the neighbourhood and give buyers one last chance to join the community."
Help to Buy is available on the current Mansion House and Town House homes on the market, with each property stamp duty exempt if the purchase is completed by March 2021.